The Senate Passed the GOP Tax Bill in the Middle of the Night Because Nobody Could Read It
The GOP's nearly 500-page tax plan with handwritten amendments scrawled in the margins was almost illegible.
---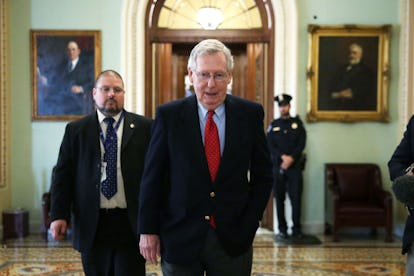 Alex Wong/Getty Images
At around 2:00 a.m. on Saturday, the Senate passed a tax bill that will give large breaks to wealthy Americans and corporations, in a 51-49 vote across the floor. The 479 page document was amended and re-written with major changes made to the original bill that was passed last month. Senators John McCain, Jeff Flake, Lisa Murkowski and Susan Collins were said to be on the fence, but eventually voted in favor of the GOP tax bill overnight, which is unheard of, as the last tax overhaul of this magnitude took place in 1986 after a six month long process.
President Trump tweeted that the "Biggest Tax Bill and Tax Cuts in history just passed in the Senate," but according to the report on the new tax bill in The New York Times, Democratic Senator Chuck Schumer claimed that the changes will likely "stuff even more money into the pockets of the wealthy and the biggest corporations while raising taxes on millions in the middle class." In the new tax plan, corporate tax rates have been permanently slashed from 35 to 20 percent, the Affordable Care Act has been further destabilized, and the Arctic National Wildlife Refuge in Alaska will also now be fair game for oil and gas drilling. The New York Times reports that the bill could cost several hundred billion dollars, which many senators fear will multiply future deficits.
Democratic senators slammed the irresponsibility of attempting to swiftly change the tax bill in such a short period of time overnight, especially after nearly illegible handwritten scribbles amended the document of the bill many Democrats referred to on Twitter as a scam. "The Republicans think that's how you make tax policy late on a Friday night," said Massachusetts Senator Elizabeth Warren as she demonstrated how impossible it was to read the bill with all of its edits. Some senators were given a few short hours before the vote to read a nearly 500 page draft with amendments scrawled in the margins, after Democrats attempted to sway the Republican senators to reconsider their rewritten tax plan for a few days before making the decision under the cover of darkness in the middle of the night.
Related: The Trump Organization Is Giving Up on One of Its Manhattan Hotels
Laurie Anderson Leads 30-Second Scream