Internet Accuses Taylor Swift of Copying Spike Jonze's Kenzo Perfume Ad in Latest Music Video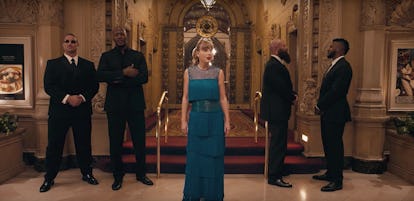 taylorswiftvevo/Youtube
Someone get Diet Prada on the case, because some people think Taylor Swift's new music video for "Delicate" took some liberal inspiration from the fashion world. According to some eagle-eyed Twitter users, the visuals for "Delicate" might appear to bear more than a passing resemblance to one famous video from 2016 — Spike Jonze's four-minute short film/perfume ad for Kenzo, starring Margaret Qualley.
Both clips revolve around a woman (Taylor in "Delicate" and Margaret in the ad) in fancy dresses at a black-tie event who, after each becomes disillusioned with her stuffy surroundings, starts dancing wildly and making faces all around the venue. There are a few key differences — Margaret mostly performs to an audience of none, while Taylor dances through an unseeing crowd; Margaret ends the video jumping through a massive logo for the perfume, while Taylor dances in the rain before meeting a mysterious person; Margaret is a classically trained ballet dancer, while Taylor is a singer — but for the most part, there reportedly are enough parallels that people are accusing Taylor of ripping off Spike's ad.
Some Twitter users have even compiled clips and stills from both videos, comparing them side by side to show similar facial expressions, dance moves, and even entire shots.
Meanwhile, Billboard has reportedly noticed elements it says seem to be from other music videos of the past, saying the "disturbed by fame" plot hat-tips Britney Spears's video for "Lucky" while the wild dancing channels Maddie Ziegler in Sia's "Chandelier." (Incidentally, Maddie's choreographer in the video happened to choreograph the Kenzo ad.)
Neither Taylor nor Spike has commented on their videos' alleged similarities, but you can watch both for yourself below.
Related: Taylor Swift's "Look What You Made Me Do" Video: Homage or Ripoff?