Taylor Swift and Joe Alwyn Danced Together to Ed Sheeran During London's Jingle Bell Ball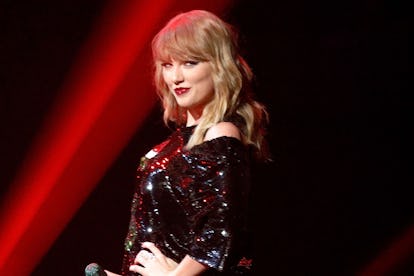 Taylor Hill/Getty Images
Taylor Swift's Reputation era is in full force: She's performed at SNL, dropped multiple music videos, finally allowed the album to stream on Spotify, and will begin her world tour soon. But she still makes time to hang out with her boyfriend, the British actor Joe Alwyn, and sneak in some romantic dates… even if those dates are actually at her work events.
On Friday night, Taylor performed at New York City's Jingle Ball, where she was introduced onstage by celeb superfans Suri Cruise and Katie Holmes. Outside of the concert, she and Alwyn were photographed holding hands for the first time, in matching outfits of course. And very happily and openly, apparently—according to a People source, "Taylor was in the best mood. She was smiling and waving to fans."
Then, the couple quickly jetted off to London for the Capital FM Jingle Bell Ball on Sunday, where Sweift proved once again that she's Ed Sheeran's biggest fan. After performing new songs "Ready for It," "Look What You Made Me Do," and "Gorgeous" as well as older hit songs like "Blank Space" at the London event, the singer found Joe in the crowd during Ed's set, according to Entertainment Tonight. Excited fans took to Twitter to post pictures and videos of the couple slow dancing to Ed's many love songs, including "Perfect."
It seems like this latest PDA might be the new normal for Taylor and Joe, who have been extremely secretive about their relationship until now. Taylor has only given subtle hints about her relationship with Joe in the past, like wearing a ring with Joe's zodiac sign on it. Not to mention, the many songs on Reputation that are almost certainly about the British actor. Perhaps we'll be seeing a lot more of Joe during Taylor's tour—it seems to be the one place where they can be romantic publicly.
"I will not be silent": Hollywood's biggest names pledge to speak their minds: