Taylor Swift Wore an $895 Sweatshirt to Prove Her Love for New York
Tourist, but make it fashion.
---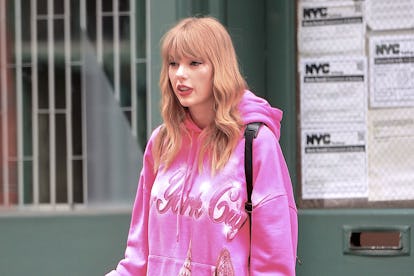 Robert Kamau/Getty Images
It's not a secret that Taylor Swift loves New York—so much so that she once dedicated one of her infamous love songs to the city. And now, she's taken things to a whole new level by spending upwards of $3,000 to look every bit the part of a New York tourist, albeit an on-trend high fashion version.
The "Ready for It" singer was recently spotted leaving her Tribeca loft wearing a hot-pink sweatshirt that riffs on something one might pickup on a visit to Times Square. But instead of rocking the usual $40 version that most out-of-towners would (which, it's worth noting, are already majorly overpriced), Swift sprang for the $895 Balenciaga version.
InStyle took the time to price out each piece in her extra-casual look, which included a $1,095 Christian Louboutin backpack, a pair of $295 frayed denim shorts from Alexander Wang, and some $648 animal print booties from Giuseppe Zanotti. Which means, yes, the entire look cost her more than $3,000.
Under creative director Demna Gvasalia Balenciaga, of course, is known for taking what would otherwise be considered "normcore" styles and making them bougie. Last year, the brand sold a pair of platform Crocs for $850, and it's also the brand behind the $1,990 Ikea bag. If you want a $895 New York sweatshirt of your own, you can buy it here. (Or at a souvenir shop on Canal Street.)
As The Cut notes, Swift has been showcasing several lewks over the past few days outside of her downtown apartment—something she hasn't done since her 1989 gym-going heyday.
In addition to channeling her inner tourist, Swift spent the weekend near New York, playing back-to-back-to-back massive crowds in New Jersey's MetLife Stadium. (According to The New York Times, she was the first female artist ever to perform three nights in a row at the venue—not something most tourists can boast.) And while she never sported New York merch during the events, she did admittedly wear a dress that looked like a Tide Pod.
Related: Gigi Hadid and Emma Stone, Squad Members, Attend Taylor Swift's Concert In New Jersey
From Taylor Swift to Victoria Beckham, Celebrities Love Jorts
Alexa Chung wears jorts while attending Glastonbury in 2010.

Claire Greenway
Emma Watson wears jorts while attending Glastonbury Festival in 2010.

Claire Greenway
Beyonce wears jorts for an appearance on MTV.

Getty Images
Agyness Deyn wears jorts while out and about in London in 2008.

Getty Images
Victoria Beckham wears jorts while out and about in New York City in 2010.

Getty Images
Lana Del Rey wears jorts to perform at the Isle of Wight Festival in 2012.

Getty Images
Candice Swanepoel wears jorts while out and about in Miami in 2013.

Getty Images
Jennifer Aniston wears jorts while out and about in New York City in 2013.

Getty Images
Rihanna wears jorts while out and about in New York City in 2013.

Getty Images
Miranda Kerr wears jorts while arriving at a Japan airport in 2013.

Getty Images
Gisele Bundchen wears jorts while out and about in Boston in 2014.

Getty Images
Jennifer Lawrence wears jorts while out in New York City in 2015.

Getty Images
Chloe Sevigny wears jorts while out in New York in 2015.

Getty Images
Dakota Fanning wears jorts while out in New York in 2015.

Getty Images
Selena Gomez wears jorts while out in New York in 2015

Getty Images
Lara Stone wears jorts while out in Paris in 2015.

Getty Images
Ciara wears jorts while out in London in 2015.

Getty Images
Taylor Swift wears jorts while out in New York City in 2014.

Getty Images
Diane Kruger wears jorts to the 2015 Global Citizen Festival.

Getty Images
Hailey Baldwin wears jorts while out in New York City in 2015.

Getty Images
Cara Delevingne wears jorts while out in New York in 2015.

Getty Images
Elizabeth Olsen wears jorts to an event in Los Angeles in 2015.

Getty Images
Emily Ratajkowski wears jorts while out in New York in 2016.

Getty Images
Lady Gaga wears jorts while out in New York in 2016.

Getty Images
Gigi Hadid wears jorts while out in New York in 2016.

Getty Images
Kendall Jenner wears jorts while out in New York in 2016.

Getty Images
Kim Kardashian wears jorts while out in New York in 2016.

Getty Images