Taylor Swift Speaks Candidly About Her Sexual Assault Trial During a Concert
"Sorry, I just haven't really talked about it, and so I'm just not composed at all."
---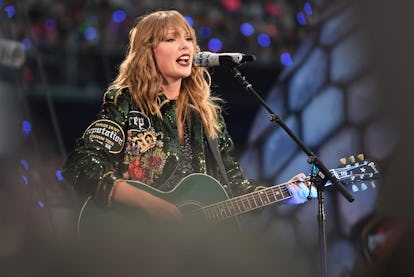 Gareth Cattermole/TAS18/Getty Images
On August 14 of last year, former radio DJ David Mueller was found guilty of groping Taylor Swift during a 2014 pre-concert meet-and-greet in Denver. After a lengthy litigation process — which involved Swift countersuing Mueller for a symbolic $1, after his initial lawsuit alleged that her sexual assault claims cost him his job at a radio station — the judge officially dismissed Mueller's case. At the time, Swift offered a prepared statement to thank the judge and her lawyers for "fighting" for her and other sexual assault survivors in the courtroom. But Tuesday night, during a stop on her Reputation tour on the anniversary of her winning verdict, Swift spoke more explicitly about her trial.
"A year ago I was not playing in a stadium in Tampa, I was in a courtroom in Denver, Colorado. This is the day the jury sided in my favor and said that they believed me. I guess I just think about all the people that weren't believed and the people who haven't been believed, and the people who are afraid to speak up because they think they won't be believed," Swift said during a Reputation tour stop, according to People. "I just wanted to say I'm sorry to anyone who ever wasn't believed because I don't know what turn my life would have taken if somebody didn't believe me when I said something had happened to me. So I just wanted to say we have so much further to go, and I'm so grateful to you guys for being there for me for what was really a horrible part of my life."
She continued, holding back tears: "I wanted to thank you for just kind of . . . I mean I know when I meet you guys at meet-and-greets and after the shows, you guys tell me about the hard times that you've gone through in your lives and I really appreciate you trusting me with that information. And you know you guys have seen me go through so many ups and downs in my life just due to the public nature of the way my life is, and I just wanted to say that I'm so happy to see you and to have you and know you through the ups and the downs in my life. Sorry, I just haven't really talked about it, and so I'm just not composed at all."
People notes that when Taylor was speaking about her sexual assault, several fans held up $1 bills around the stadium to show their support.
From Jackie O to Taylor Swift, a Look Back At What Celebrities Have Worn For Their Day In Court
Jackie Onassis at the Federal Courthouse for trial Jackie Onassis vs. Photographer Ron Galella for Harassment.

Getty
Jackie Onassis during Jackie Onassis vs Ron Galella, Photographer for Harassment Trial at Federal Courthouse in New York City on March 8, 1972.

Getty
Jackie Onassis during Jackie Onassis vs Ron Galella, Photographer for Harassment Trial at Federal Courthouse in New York City on March 8, 1972.

Getty
Winona Ryder attends her trial wearing a matching sweater and skirt set.

Getty
Winona Ryder enters the Beverly Hills Municipal Court for the reading of the verdict on the eighth day of her shoplifting trial on November 6, 2002 in Beverly Hills, California.

Getty
Winona Ryder leaves Santa Monica County Building after reporting to the probation office on December 11, 2002 in Santa Monica, California.

Getty
Courtney Love leaves the Clara Shortridge Foltz Criminal Justice Center in Los Angeles on November 10, 2004.

Getty
Courtney Love leaves court after giving a judge a progress report on her assault charge at the Clara Shortridge Foltz Criminal Justice Center on November 18, 2005.

Getty
Courtney Love arrives at Los Angeles Superior Court on July 27, 2004 in Los Angeles.

Getty
Naomi Campbell leaves Manhattan Criminal June 27, 2006 in New York City after being charged with second-degree assault on her housekeeper, Ana Scolavino, after allegedly throwing a mobile phone at her.

Getty
Naomi Campbell was charged with second-degree assault Thursday following the alleged assult on her housekeeper in her Park Avenue apartment on March 30, 2006 in New York City. If convicted, she could face 7 years in Prison. Her trial date has been set for June 27th 2006 in New York Criminal Court. (Photo by Jemal Countess/WireImage)

Jemal Countess
Linda Evangelista appears at Manhattan Family Court on May 4, 2012 in New York City.

Getty
Linda Evangelista appears at Manhattan Family Court on May 8, 2012 in New York City.

Getty
Linda Evangelista appears at Manhattan Family Court on May 7, 2012 in New York City.

Getty
Paris Hilton arrives at the Metropolitan Branch Courthouse on May 4, 2007 in Los Angeles, California. L

Getty
Paris Hilton arrives at a Miami court where she is involved a breach of contract suit. on July 9, 2009 in Miami, Florida.

Getty
Paris Hilton sighting at the Ferguson U.S. Courthouse for her civil trial on allegations she failed to adequately promote the 2006 film National Lampoon's Pledge This! on July 10, 2009 in Miami, Florida.

Getty
Britney Spears arrives at a custody hearing at the Stanley Mosk Courthouse on October 26, 2007 in Los Angeles, California.

Getty
Lil' Kim departs the Federal Court House in New York City on March 15, 2005.

Getty
Nicole Richie and boyfriend Joel Madden leave court in Glendale, California, on July 2007 after Richie pleaded guilty to driving under the influence of drugs.

Getty
Sienna Miller is pictured at the High Court on November 24, 2011 in London, England.

Getty
Lindsay Lohan arrrives for her arraingment at the Airport Courthouse on February 9, 2011 in Los Angeles, California.

Getty
Lindsay Lohan arrives for the afternoon session of the probation revocation hearing at the Beverly Hills Courthouse on July 6, 2010 in Los Angeles, California.

Getty
Lindsay Lohan leaves court after her latest probation hearing on February 22, 2012 in Los Angeles, California.

Getty
Lindsay Lohan leaves court after her latest probation hearing at the Airport Courthouse on March 29, 2012 in Los Angeles, California.

Getty
Lindsay Lohan leaves Airport Branch Courthouse of Los Angeles Superior Court March 18, 2013 in Los Angeles, California.

Getty
Amanda Bynes attends an appearance at Manhattan Criminal Court on July 9, 2013 in New York City.

Getty
Stephanie Seymour is seen leaving Stamford Superior Court where she faced charges of Driving Under the Influence on February 2, 2016 in Stamford, CT.

Getty
Kim Kardashian surrounded by Los Angeles County Sheriff Deputies leaves the Stanley Mosk Courthouse after attending her divorce hearing from Kris Humphries on April 12, 2013 in Los Angeles, California.

Getty
Amal Clooney attends a press conference at Doughty Street Chambers on October 5, 2015 in London, England.

Getty