Taylor Swift Wins Copyright Lawsuit for 'Shake It Off'
"In short, combining two truisms about playas and haters, both well-worn notions as of 2001, is simply not enough."
---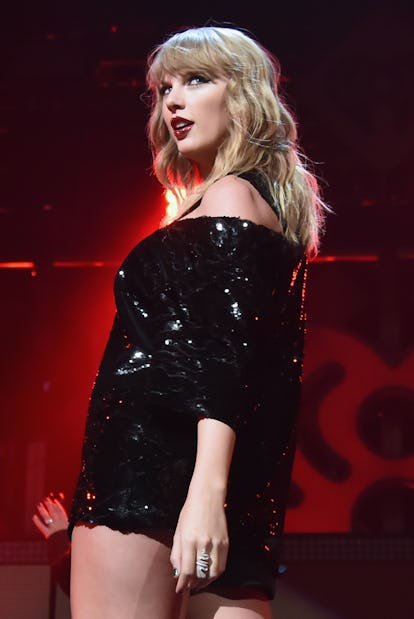 Kevin Mazur/Getty Images
"Haters gonna hate" has never held more meaning for Taylor Swift than it does now. That's because the pop singer just won a lawsuit against her claiming she plagiarized that very line, along with "playas gonna play," in her 2014 song, "Shake It Off." Her victory, per Variety, comes four months after songwriters Sean Hall and Nathan Butler alleged that Swift ripped off their 2001 song for 3LW "Playas Gon' Play" which contains lines like "The playas gon' play/ Them haters gonna hate."
"The combination of playas/players playing along with hatas/haters hating may seem like common parlance today, however, in 2001 it was completely original and unique," the songwriting pair's lawyer wrote in his complaint, as The Hollywood Reporter reported. "In all, 'Playas Gon' Play' prominently features a sequence of four peoples (playas, haters, callers, and ballers) who engage in four activities (playing, hating, calling, and balling). Plaintiffs were the first to put such a sequence together using the terms playas and haters, and prior to Defendants' use at issue herein, the combination had not since been used in popular music."
At the time, Swift's team issued a statement, saying, "This is a ridiculous claim and nothing more than a money grab. The law is simple and clear. They do not have a case." Judge Michael W. Fitzgerald seemed to agree with that sentiment as, today, he dismissed the lawsuit.
"By 2001, American popular culture was heavily steeped in the concepts of players, haters, and player haters," Judge Fitzgerald concluded as Variety points out. "The concept of actors acting in accordance with their essential nature is not at all creative; it is banal… In short, combining two truisms about playas and haters, both well-worn notions as of 2001, is simply not enough." Fitzgerald also reasoned that "the lyrics at issue — the only thing that Plaintiffs allege Defendants copied — are too brief, unoriginal, and uncreative to warrant protection under the Copyright Act."
This isn't the first high-profile lawsuit Swift has won in recent memory. Last August, the singer and songwriter took radio DJ David Mueller to court for groping her before a 2013 concert and won the $1 she sought. She later issued a statement — and, subsequently, appeared on TIME's 2017 cover for the #MeToo movement, which was deemed "person of the year" — saying, "My hope is to help those whose voices should also be heard. Therefore, I will be making donations in the near future to multiple organizations that help sexual assault victims defend themselves."
As for songwriters Hall and Butler's loss, they'll just have to shake it off.
A Brief History of the 16 Most Memorable Celebrity Courtroom Sketches, from Amy Winehouse to Taylor Swift