The Crown Season Three's Camilla Parker Bowles Will Be Played by Emerald Fennell
The socialite Queen Elizabeth once called "that wicked woman" has been cast.
---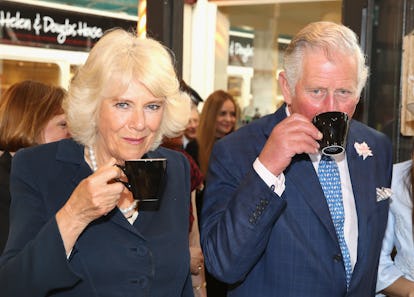 Chris Jackson – WPA Pool/Getty Images
The Crown has already gotten Queen Elizabeth II's stamp of approval, and now it's set to get Camilla Parker Bowles's as well. That's because the wife of Prince Charles—controversially so, as the Netflix show will no doubt present—has just been hired, and, well, it's a very kind casting to the socialite turned royal. Bowles, the love of Prince Charles's life, who finally wedded him in 2005, will be played by Emerald Fennell, of Call the Midwife fame.
Fennell will be playing a younger Bowles, from the early '70s, when the couple first met. The third season of The Crown, which spans from 1964 to 1976, will reportedly depict the moment they first saw each other. It will also likely cover Bowles's wedding to Andrew Parker Bowles, in July 1973, eight years before Prince Charles would go on to marry Princess Diana. No doubt Queen Elizabeth II, played in this season by Olivia Colman, and Prince Philip, played by Tobias Menzies, will give their strong-minded opinions to Prince Charles at some point. It wasn't, however, until the couple's affair years later that the real-life Queen reportedly took a disliking to Bowles.
Back in 1998, after the death of Princess Diana, the Queen allegedly confronted her firstborn son about his affair with Bowles. "She would not condone his adultery, nor forgive Camilla for not leaving Charles alone to allow his marriage to recover," a report in the recent royal tell-all Rebel Prince: The Power, Passion and Defiance of Prince Charles stated, as People covered. "She vented her anger that he had lied about his relationship with what she called 'that wicked woman,' and added: 'I want nothing to do with her.'"
This season may be even more drama-filled than previous ones, as the show's producer Suzanne Mackie has revealed. "It has a different flavor," she told Radio Times. "It feels like the '60s are with us, and it has a slight shock of the new," which the director Philip Martin echoed. "The first season happened in a bubble," he said, "I think that Elizabeth and Phillip and Margaret are all in a world and everybody is in some ways supportive of them. And I think in the second season the world comes crashing in."
The Crown's cast for the third season will be in an excellent position to show that, with Helena Bonham Carter playing Princess Margaret and Josh O'Connor as Prince Charles. The premiere date has yet to be announced.