The Last O.G.: See Tracy Morgan and Tiffany Haddish Navigate Gentrified Brooklyn in the Sitcom's First Trailer
Tracy Morgan plays Tray, a man recently released from prison who returns to Brooklyn to find his girlfriend Shay, Tiffany Haddish, married to a white guy in TBS' 'The Last OG'
---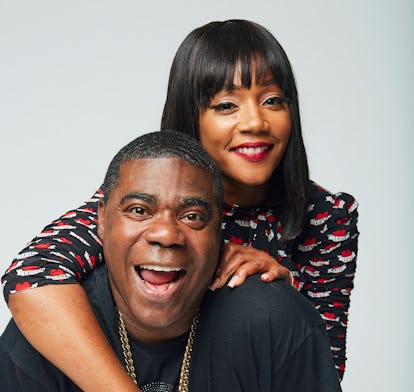 Photo by Smallz & Raskind/Getty Images
The Tiffany Haddish World Domination Campaign continues apace, with TBS releasing the first trailer for the Girls Trip star's upcoming sitcom with 30 Rock's Tracy Morgan, The Last O.G.
In the series, Morgan plays Tray, a former crack dealer who returns to Brooklyn after a decade and a half behind bars to find that his girlfriend, Shay (Haddish) is married to a white guy, he has a son and daughter he never knew about, and his old neighborhood is full to the brim with hipsters and tony coffee shops. "Wanting nothing more than to connect with his kids, but having neither the money to support them nor himself, Tray falls back on the skills he learned in prison to make ends meet while treading unfamiliar territory," reads the trailer's YouTube description. The series also stars Cedric The Entertainer as the proprietor of Tray's halfway house, Mullins.
In the trailer, Cedric, Haddish and Morgan are expectedly hilarious, with Morgan loud and brash as ever and Haddish an on-screen spitfire (though we assume these jokes will be even better when the punchlines aren't bleeped out). Check out the trailer here:
This isn't Tiffany Haddish's only upcoming project. The Girls Trip actress is also working on a mob drama with Melissa McCarthy, the film Night School with Kevin Hart, and a first-look deal with HBO. We welcome our new overlord.
The Last OG premieres on TBS on April 3.
Related: [Girl, Please: Tiffany Haddish on Girls Trip, the Bill Cosby Nonsense and Taking Revenge on Ex-Boyfriends](https://www.wmagazine.com/story/tiffany-haddish-girls-trip-bill-cosby-jada-pinkett-smith