The O.C. Supporting Cast Members Who Went On to Superstardom
Olivia Wilde, Chris Pratt, and Amber Heard all passed through Orange County on their way to megastardom.
---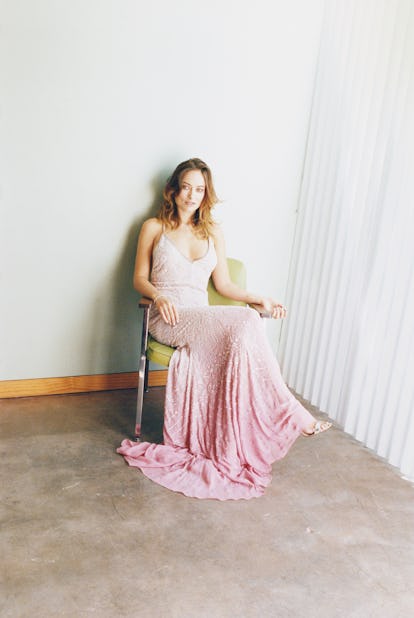 Photograph by Juergen Teller for W Magazine, February 2014.
To celebrate the 15th anniversary of the series premiere of The O.C., actor Rachel Bilson—who starred on the show as Summer Roberts—shared a vintage photo of the cast, including regulars Mischa Barton, Peter Gallagher, Adam Brody, and Ben McKenzie. But though most have gone on to continue working onscreen (McKenzie, as the star of Gotham; Bilson on Hart of Dixie; and Brody in a series of feature films, for example), the instantly recognizable lot remains most indelibly associated with the series that originally made them famous.
By contrast, The O.C. helped launch the careers of a whole host of supporting actors who have gone on to major careers—or, at least, The O.C.'s casting department had a strong sense of who was about to be big. The real stars of The O.C., it turns out, were in the background all along. Here, take a look at a few of those who made it biggest following their appearances on the early-'00s mainstay.
Olivia Wilde
Olivia Wilde appeared in 13 episodes in the second season as Alex Kelly, who runs The Bait Shop and enters into a brief relationship with Marissa Cooper. After The O.C., Wilde soon landed a starring role in House; after the Fox drama concluded, Wilde became best known for a string of rom-coms and for a harrowing turn in a recent Broadway production of 1984.
Chris Pratt
Chris Pratt's appearance on The O.C. is but a footnote on a résumé filled with blockbusters (Jurassic World and its sequel; Guardians of the Galaxy and its affiliated films), but it's worth remembering he too cut his teeth in Orange County. It was just his second recurring television gig; he played an activist named Ché whom Summer befriends at Brown.
Shailene Woodley
Before The Spectacular Now, even before The Secret Life of the American Teenager, the surprisingly long-running soap on which Woodley first made her name, the future Big Little Lies star had a brief run as the younger version of Marissa's younger sister, Kaitlin, who would later be played by Willa Holland. She recurred throughout the first season before she departed for boarding school; when she returned two seasons later, she was reincarnated as Holland.
Amber Heard
Long before she dyed her hair vivid red for Aquaman or was affiliated in any way with Elon Musk, actor Amber Heard earned a one-episode role as a sales clerk in The O.C.
Max Greenfield
Max Greenfield played a younger version of Peter Gallagher's Sandy Cohen in The O.C. before going on to what one W editor referred to as the career "Adam Brody wishes he had," including his starring role on Zooey Deschanel's Fox comedy New Girl and a spot among Ryan Murphy's armada of recurring stars.
The Pretty Little Liars
Not one but three future Pretty Little Liars got their foot in the door thanks to The O.C. The favorite testing ground of future teen-drama stars everywhere found roles for Ashley Benson, Janel Parrish, and Lucy Hale. And, as we know, post–Pretty Little Liars life looks to be treating Hale pretty well.
Related: The O.C.'s Most Iconic Fashion Moments, In GIF Form