Thomas Markle Talks About Everything From How Prince Harry Asked Him for Meghan Markle's Hand in Marriage To Donald Trump In New Interview
He broke his silence in a "tell-all interview" with Good Morning Britain.
---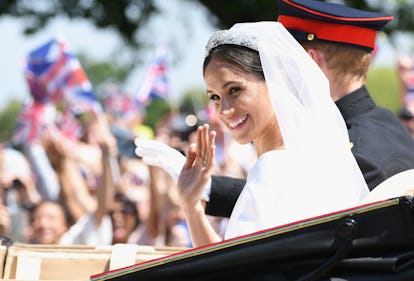 Karwai Tang/Getty Images
If Thomas Markle thought the royals were angry about the staged paparazzi photos, just wait until they get a load of his new interview. The father of Meghan Markle, duchess of Sussex, sat down with Good Morning Britain for a 30-minute tell-all interview on Monday, revealing how Prince Harry had asked for his daughter's hand in marriage, the prince's alleged opinions on Donald Trump and Brexit, and what it felt like watching someone else walk his daughter down the aisle, among many other things.
In the interview, Markle said his daughter broke the news of her and Prince Harry's relationship slowly. "The first phone calls were, 'Daddy, I have a new boyfriend,' and I said, 'That's really nice.' And the next call was like, 'He's British,' and I said, 'That's really nice.' And eventually the third time around was, 'He's a prince.' And at that point she said, 'It's Harry,' and I said, 'Oh, Harry, okay.'" He went on to say his daughter said they had to call him "'H' so that no one knows we're talking about Harry.'"
Thomas Markle said he and Prince Harry eventually ended up speaking several times over the phone as well, and the pair, according to Thomas Markle, discussed politics. (As a royal Prince Harry is not supposed to openly discuss his political leanings.) "Our conversation was, I was complaining that I didn't like Donald Trump," Markle said. "He said, 'Give Donald Trump a chance,'" Markle claims Harry said to him. He continued, "I sort of disagreed with that. I still like Harry. That was his politics, I have my politics. We had conversations about it." When asked if he thought Prince Harry was a Trump supporter, he answered, "I would hope not now, but at the time he might have been."
Markle also claimed that Prince Harry said he was open to the "experiment" of Brexit, Thomas Markle revealed in the interview. "It was just a loose conversation about something we have to try," he said. "There was no real commitment for it. I think he was open to the experiment."
Markle added that the prince asked for Meghan's hand in marriage over the phone as well, after his daughter broke the news. "They called me together, and Harry asked for her hand over the phone, and I said, 'You're a gentleman. Promise me you'll never raise your hand against my daughter, and of course I give you my permission,'" he said.
Elsewhere in the interview, Markle apologized again for the staged paparazzi photos, reiterating that he "feels bad" about his attempts to change the tabloids' "negative" image of him, and he said that Meghan cried when he told her he couldn't make it to the wedding. "I absolutely wanted to walk my daughter down the aisle," he said. "It was incredible watching her. I was very proud. I was very upset that it wasn't me [walking Meghan down the aisle], but the whole world was watching my daughter. I was very happy about that."
"The unfortunate thing is I am now a footnote in one of the greatest moments in history rather than the dad walking her down the aisle," he added. "That upsets me somewhat."
Although Good Morning Britain host Piers Morgan later said on This Morning that he hadn't confirmed the interview with the royals and that he doesn't think Thomas Markle told them either, Markle himself said he doesn't want to offend his new extended family with the interview. "More than anything I don't want my daughter or new son-in-law to be hurt by any of this," he said. "I want to have a nice, normal relationship with my royal family as well now."
Royal Wedding Photos: All the Celebrity and Royal Arrivals at Prince Harry and Meghan Markle's Ceremony at Windsor Castle
Meghan Markle with her mother Doria Ragland (unseen) drive down the Long Walk as they arrive at Windsor Castle ahead of her wedding to Prince Harry on May 19, 2018 in Windsor, England.

Richard Heathcote
Meghan Markle (R) with her mother Doria Ragland drive down the Long Walk as they arrive at Windsor Castle ahead of her wedding to Prince Harry on May 19, 2018 in Windsor, England.

Richard Heathcote
Meghan Markle arrives for her wedding to Prince Harry at St George's Chapel, Windsor Castle on May 19, 2018 in Windsor, England.

WPA Pool
Meghan Markle arrives for the wedding ceremony to marry Prince Harry at St George's Chapel, Windsor Castle on May 19, 2018 in Windsor, England.

WPA Pool
Queen Elizabeth II arrives at the wedding of Prince Harry to Ms Meghan Markle at St George's Chapel, Windsor Castle on May 19, 2018 in Windsor, England. Prince Henry Charles Albert David of Wales marries Ms. Meghan Markle in a service at St George's Chapel inside the grounds of Windsor Castle.

Shaun Botterill
Queen Elizabeth II arrives at St George's Chapel at Windsor Castle before the wedding of Prince Harry to Meghan Markle on May 19, 2018 in Windsor, England.

WPA Pool
Queen Elizabeth II arrives at St George's Chapel at Windsor Castle before the wedding of Prince Harry to Meghan Markle on May 19, 2018 in Windsor, England.

WPA Pool
Doria Ragland arrives at St George's Chapel at Windsor Castle before the wedding of Prince Harry to Meghan Markle on May 19, 2018 in Windsor, England.

WPA Pool
Meghan Markle arrives at St George's Chapel at Windsor Castle before the wedding of Prince Harry to Meghan Markle on May 19, 2018 in Windsor, England.

WPA Pool
Prince Harry (left) walks with his best man, Prince William Duke of Cambridge, as he arrives at St George's Chapel at Windsor Castle for his wedding to Meghan Markle, on May 19, 2018 in Windsor, England.

WPA Pool
Prince Harry and Prince William, Duke of Cambridge the wedding of Prince Harry to Ms Meghan Markle at St George's Chapel, Windsor Castle on May 19, 2018 in Windsor, England.

Shaun Botterill
Prince Harry (left) walks with his best man, Prince William, Duke of Cambridge as they arrive at St George's Chapel at Windsor Castle before the wedding of Prince Harry to Meghan Markle on May 19, 2018 in Windsor, England.

WPA Pool
Prince Philip, Duke of Edinburgh rrives at St George's Chapel at Windsor Castle before the wedding of Prince Harry to Meghan Markle on May 19, 2018 in Windsor, England.

WPA Pool
Princess Anne, The Princess Royal and Vice Admiral Sir Tim Laurence arrive at St George's Chapel at Windsor Castle before the wedding of Prince Harry to Meghan Markle on May 19, 2018 in Windsor, England.

WPA Pool
Amal and George Clooney arrive at St George's Chapel at Windsor Castle before the wedding of Prince Harry to Meghan Markle on May 19, 2018 in Windsor, England.

WPA Pool
Sarah, Duchess of York arrives at St George's Chapel at Windsor Castle before the wedding of Prince Harry to Meghan Markle on May 19, 2018 in Windsor, England.

WPA Pool
Abigail Spencer and Priyanka Chopra arrive at the wedding of Prince Harry to Ms Meghan Markle at St George's Chapel, Windsor Castle on May 19, 2018 in Windsor, England.

Chris Jackson
Serena Williams and Alexis Ohanian attend the wedding of Prince Harry to Ms Meghan Markle at St George's Chapel, Windsor Castle on May 19, 2018 in Windsor, England.

Shaun Botterill
David and Victoria Beckham attend the wedding of Prince Harry to Ms Meghan Markle at St George's Chapel, Windsor Castle on May 19, 2018 in Windsor, England.

Shaun Botterill
David and Victoria Beckham (both right) talk with Sir Elton John (L) and David Furnish (C) as they arrive in St George's Chapel at Windsor Castle for the wedding of Prince Harry to Meghan Markle on May 19, 2018 in Windsor, England.

WPA Pool
Julia Carey and James Corden attend the wedding of Prince Harry to Ms Meghan Markle at St George's Chapel, Windsor Castle on May 19, 2018 in Windsor, England.

Shaun Botterill
Idris Elba and Sabrina Dhowre followed by Oprah Winfrey (fourth right) arrive at St George's Chapel at Windsor Castle for the wedding of Meghan Markle and Prince Harry on May 19, 2018 in Windsor, England.

WPA Pool/Getty
Lady Kitty Spencer arrives at the wedding of Prince Harry to Ms Meghan Markle at St George's Chapel, Windsor Castle on May 19, 2018 in Windsor, England.

Chris Jackson
Cressida Bonas arrives at St George's Chapel at Windsor Castle before the wedding of Prince Harry to Meghan Markle on May 19, 2018 in Windsor, England.

WPA Pool
Actress Gina Torres (Markle's former costar on Suits) arrives at St George's Chapel at Windsor Castle before the wedding of Prince Harry to Meghan Markle on May 19, 2018 in Windsor, England.

WPA Pool
Oprah Winfrey arrives at St George's Chapel at Windsor Castle before the wedding of Prince Harry to Meghan Markle on May 19, 2018 in Windsor, England.

WPA Pool
Socialite Delfina Blaquier arrives at the wedding of Prince Harry to Ms Meghan Markle at St George's Chapel, Windsor Castle on May 19, 2018 in Windsor, England.

Chris Jackson
Charles Spencer, 9th Earl Spencer and Karen Spencer arrive at the wedding of Prince Harry to Ms Meghan Markle at St George's Chapel, Windsor Castle on May 19, 2018 in Windsor, England.

Chris Jackson
Sofia Wellesley and singer James Blunt arrive at St George's Chapel at Windsor Castle for the wedding of Prince Harry to Meghan Markle on May 19, 2018 in Windsor, England.

WPA Pool
Chelsy Davy, Prince Harry's ex, attends the wedding of Prince Harry to Ms Meghan Markle at St George's Chapel, Windsor Castle on May 19, 2018 in Windsor, England.

Shaun Botterill