Thora Birch, Star of Hocus Pocus and American Beauty, Just Got Married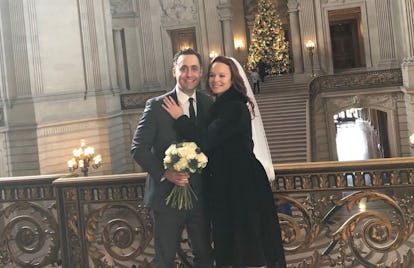 Twitter: @1107miss
Enid Coleslaw got her happily ever after. Thora Birch, star of turn-of-the-millennium hits like American Beauty, Ghost World, Hocus Pocus and Patriot Games, just revealed on social media that she got married on Friday.
"It's done! I'm a married woman now… This is not the official photo but it's my thank you to all my fans for their positive energy! I felt it every second!! ???✨?? party time. Hehe," she wrote on Twitter, also posting a picture of her and her new husband embracing at San Francisco City Hall. Way to slide that one in under the government shutdown line, Thora.
Birch and her betrothed apparently flew in for the occasion, which she documented online, posting a picture of the two of them kissing at the airport, a cloudy sky from the plane window, and then a close-up of her flower bouquet with the cryptic joke, "What the hell are THESE?!? ;-)." She seems to have been in a seriously good mood for the event, even asking Twitter followers for their positive vibes at the minute of the appointment. On Saturday morning, Birch wrote that she was "Still basking in the glow. My perfect penguin caught me 'in a moment'."
Now, we may not know the husband's legal name just yet, but Mr. Thora Birch's Perfect Penguin is about as great a moniker as you can get.
Vinessa Shaw, her Hocus Pocus co-star, took to Instagram to congratulate the couple, writing, "So proud of my lil' sis Thora! You're all grown up! ?Congratulations! So proud of you both! Here's to the deepening of your love every year that goes by! ?#tiedtheknot" Maybe some of us were still hoping she would grow up to marry the ghost of Thackery Binx, but okay, this is nice, too.
See below for all of her posts from the big day:
Related: All of the Celebrities Who Have Gotten Married In 2018 (So Far)
12 Chic Coats That Will Keep You Warm All Winter