Tiffany Haddish's 17-Minute Awards Acceptance Speech Has Gone Viral
"First, I want to look at the award and make sure they spelled my name right."
---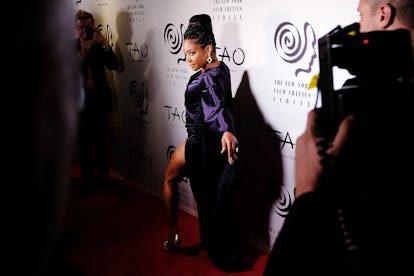 Nicholas Hunt
Televised awards shows have a habit of shooing winners off the stage after the minute mark, but if you're the New York Film Critics Circle, and you're honoring Tiffany Haddish, a standup at the top of her game, and you don't have to worry about ad breaks and a TV audience, why not let her give a 17-minute acceptance speech? Haddish was officially awarded with the critics' Best Supporting Actress prize for her work in Girls Trip at a ceremony at Manhattan's TAO Downtown last night (winners had been announced weeks beforehand) and brought the crowd down, back up again, and at some points to tears with her epic and equally hilarious and touching speech. In fact, Haddish owned the night so much that Phantom Thread director Paul Thomas Anderson even sent an envoy to congratulate Haddish, and to offer up his phone number since he, like everyone else, is dying to work with her.
Haddish climbed the stage with a "Tiffanicity-tini" in hand and then quickly double checked her award.
"First, I want to look at the award and make sure they spelled my name right—because I remember when I ran track, they spelled my name wrong," she said. "It's right. Somebody did this with calligraphy and everything."
Haddish also acknowledged that she received the award from a critics circle, even if she's often afraid to read reviews herself and wasn't previously totally aware of what critics did. "The only critics I ever known before this was Siskel and Ebert, and then when they passed, I was like, 'Oh, well.'"
"If you said something, thank you," she told the critics. "I don't care if it's positive or negative. I appreciate you; I'm glad you see me. Because it's been so many years nobody saw me."
"When you're a little kid going through the system, you wonder, 'Does anybody even know I'm alive?'" continued Haddish, who was raised for many years in the foster care system. "To be able to be this example to so many youth—there's so many people like me that you guys have no clue about. But they coming. Because I kicked the f—ing door open."
Later, she also decided to make a pass at Michael B. Jordan. "Don't hurt my feelings, Michael B. Jordan. I'm just putting in my card, player. I'll check your credit score, though, to make sure you qualify," she quipped.
Haddish also explained how she got the part in Girls Trip despite being little-known outside certain circles of the comedy world beforehand. It all started with a part in Jordan Peele's pre-Get Out film, Keanu.
"So I did Keanu, and all the crew members—it was like eight of them—sent me the script for Girls Trip," she said. "We shot that in New Orleans. They sent me the script, and they say, 'Girl, this is you. This is you last summer. You need to be in this movie. You need to audition for it.'"
"I tried to get an audition, and my agent is like, 'Oh, they only want to see names.' And I said, 'You tell them I've had a name since 1979, and it's Tiffany motherf—ing Haddish. You get me in there.'"
Elsewhere during the ceremony, Phantom Thread actress Lesley Manville was charged with reading an acceptance speech from an absent P.T. Anderson for Best Screenplay, a message that soon turned to Haddish.
Not too long ago, we pegged Haddish as one of the women we'd definitely like to see host a major awards ceremony soon (especially right now). This only proves that she'd be a natural for the job.
Related: Girl, Please: Tiffany Haddish on Girls Trip, the Bill Cosby Nonsense and Taking Revenge on Ex-Boyfriends