Timothée Chalamet's Beautiful Boy Trailer Will Make You Cry
The trailer for Beautiful Boy, Chalamet's next Oscars contender, is a tearjerker.
---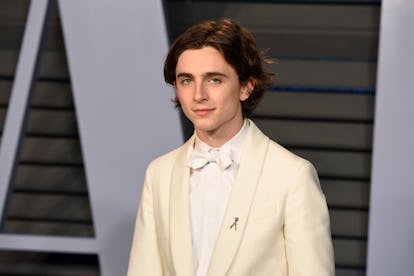 Presley Ann/Getty Images
Timothée Chalamet's next Oscars contender, Beautiful Boy, is coming with one mission in mind: to make you cry.
Amazon Studios released some clips of the film at CinemaCon in April, and at the time, audiences were impressed with what they saw. Now, the full trailer for Beautiful Boy has finally been revealed, and Chalamet's performance looks properly harrowing.
Directed by Felix Van Groeningen, Chalamet will play Nic, a recovering amphetamine addict based on the real-life Nic Sheff in Beautiful Boy. Both Nic Sheff and his father David Sheff (played by Steve Carrell in the film) each wrote memoirs (Tweak: Growing Up on Methamphetamines and Beautiful Boy: A Father's Journey Through His Son's Addiction) chronicling Nic's struggle with methamphetamines, and Beautiful Boy will tell the painful and redemptive story of the family as they come to terms with Nic's addiction and recovery.
In the trailer for the film, it looks as if by playing father and son, Carrell and Chalamet both give weepy performances that will likely nab the attention of the judges of various awards ceremonies later this year (and it wouldn't be the first time for wither of them—Carrell was nominated for an Oscar for his performance in the 2014 wrestling biopic Foxcatcher, and Chalamet's performance in Call Me By Your Name was nominated for an Academy Award, as well). Maura Tierny and Amy Ryan will also take on pivotal roles in the film, as will up-and-comer Kaitlyn Dever.
When Beautiful Boy is released in theaters on October 12—just in time for awards pre-season—there likely will not be a dry eye in the audience. Until then, Chalamet fans will have to lift themselves by watching another riveting but lighter one of his films, when the young actor takes over the screen in Hot Summer Nights on July 27.
Related: Which Celebrity Is the Biggest Timothée Chalamet Fan? An Investigation