Which Celebrity Is the Biggest Timothée Chalamet Fan? An Investigation
Between Frank Ocean, Kid Cudi, and Tyler, the Creator, the 22-year-old actor has some major celebrity superfans.
---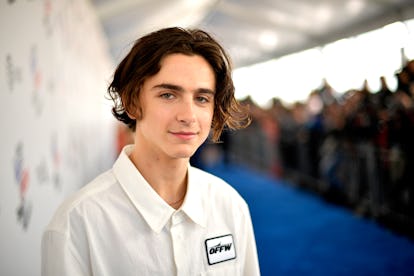 Matt Winkelmeyer
It's no secret that Timothée Chalamet appears to be everywhere. The 22-year-old actor has starring roles in Hot Summer Nights, Beautiful Boy, Netflix's The King, and a still-untitled Call Me by Your Name sequel on the docket, and his position as king of the Hollywood heartthrobs remains (almost) unrivaled.
The Internet is just chock full of superfans of the actor (what are Timothée Chalamet stans calling themselves, anyway?), and he knows it. Chalamet, who considers himself to be a fanboy of many actors, musicians, fashion designers, and athletes, remains the subject of popular songs, the focal point of peach memes, and the object of obsession for many more who have no shame in publicly declaring their praise. The Chalamet craze is showing no signs of slowing down, but three contenders for the title of Biggest Timothée Chalamet Fan have presented themselves since the release of Call Me by Your Name last year—Kid Cudi, Frank Ocean, and Tyler, the Creator—and some sleuthing needed to be done to discern which one should take home the crown.
Kid Cudi
Timothée Chalamet and Kid Cudi have a mutual respect for one another—Chalamet has tweeted about his love for Cudi's oeuvre, and Cudi once told fans his favorite artist right now was Chalamet. When the actor checked his mentions to discover Cudi's praise, he couldn't contain himself on Twitter, saying "UHMMM OKAY STRIKE ME THE FUCK DOWN," so really, Chalamet might be a bigger fan of Cudi than Cudi is of him.
Tyler, the Creator
Tyler, the Creator has written and performed two songs that explicitly praise Timothée Chalamet. First, on "Okra," the rapper makes a point of shouting out the actor's skincare routine. "Tell Tim Chalamet to come get at me / Skin glowing clear of acne," he says. Then, on his recently released track titled "Gelato," Tyler freestyles about his romantic inclinations, rapping, "You got me on tippy toe / So who's Oliver? Who Elio?" a nod to Chalamet's Call Me by Your Name character, Elio. Anyone can reference an actor in some song lyrics, but alluding to the career-making character portrayed by the same actor in another follow-up track, then releasing a song called "Peach Fuzz," when that fictional character is intensely associated with that stone fruit officially counts as stan behavior.
Frank Ocean
Even if you're Frank Ocean, the opportunity to interview someone you're a huge fan of for the cover of V Man doesn't come around every day, and some might even consider Ocean asking the native New Yorker "what should I see while I'm in New York?" cute, but it doesn't necessary classify as full-on obsession with all things Chalamet. Frank Ocean is just a fan of Chalamet's art (and that statistics-rap video is not excluded), according to the interview.
The award goes to…
Tyler, the Creator. Look, when you write two songs about the actor, and make your Twitter location, "Somewhere in Northern Italy" (a straightforward reference to the Call Me by Your Name title card), you're a bonafide Timothée Chalamet stan. He also gets bonus stan points for releasing a song called "Peach Fuzz" in the midst of stone fruit season.
Related: Robert Pattinson and Timothée Chalamet Cast in Battle for Heartthrob Crown