Is Timothée Chalamet Cardi B's Biggest Fan?
It won't be long before we get a Timmy T and Cardi B collaboration.
---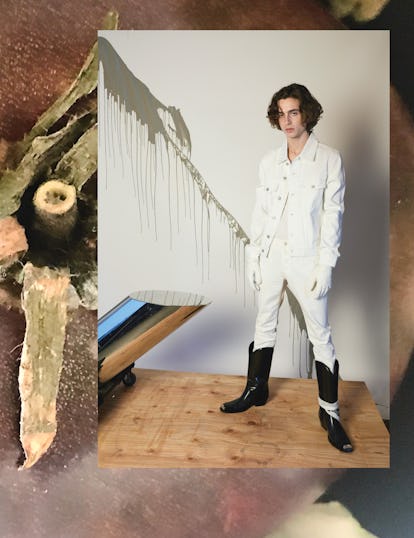 Photographs by Juergen Teller; Styled by Edward Enninful
Perhaps two of the buzziest names this awards season have been Timothée Chalamet and Ansel Elgort—both of whom have competed not only for awards and recognition for their roles in some of the year's most critically acclaimed films, but also for the title of most popular student at LaGuardia High School (according to Elgort, Chalamet was more popular than he was). Once again, we can re-instate the battle of the New York City scions, with this round pertaining to another somewhat unexpected New York staple—the Grammy nominated rapper Cardi B.
Chalamet has stepped back into the ring, this time in the "who is the bigger Cardi B fan" contest, and right now he's coming out ahead against fellow Cardi B fan Ansel Elgort. Sure, anyone can post a photo with Cardi B on their Instagram, but would just anyone think to shout out Cardi B as a total non sequitur in their Gotham Award speech and then rap "Bartier Cardi" on the red carpet ahead of the SAG Awards? No, only someone with a rapping alter ego known as Timmy T would do such a thing.
Chalamet's mother Nicole Flender, who was also his date five years ago according to a throwback post on his Instagram, joined him on the SAG red carpet during his rendition of the rapper's latest single. Proudly, she rolled her fists along with the Access Hollywood reporter interviewing Chalamet ahead of the ceremony, just after Chalamet insisted that he finds Cardi B's Bronx origins relatable (his grandparents are residents of the same borough). It remains unclear if Chalamet has ever met Cardi B, but at this rate, it's only a matter of time before we get that Timmy T and Cardi B collaboration the Internet has been waiting for. Ansolo, it's your turn.
Related: Timothée Chalamet and Ansel Elgort Argue Over Who Was Less Popular in High School