Timothée Chalamet Remixes Frank Ocean's Met Gala Look
Timothée Chalamet and Frank Ocean are fans of each other—and apparently also of Prada's black nylon outerwear.
---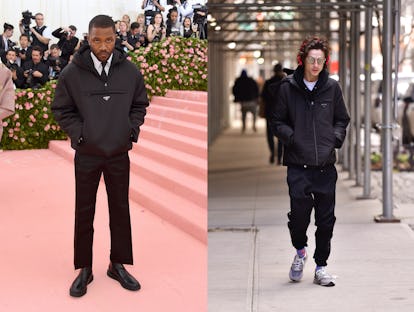 Getty Image
Timothée Chalamet and Frank Ocean have a well established mutual appreciation society. That we know. Ocean interviewed Chalamet for an issue of VMan back in 2018, and when the pair buddy-upped in the front row of a Louis Vuitton menswear show in Paris early last yet, it sent shockwaves of glee through certain segments of the internet.
Now, it appears that the two are even dressing alike. Chalamet was spotted on the streets of New York City in an outfit that very much seemed like the street style adaptation of Ocean's (somewhat controversial) look from last May's Met Gala.
While the theme was officially Camp, Ocean showed up in a relatively subdued black tie look. It's one twist: he replaced a traditional tux jacket with a nylon Prada anorak instead. Some dismissed the look as too boring for the over the top affair, but others quickly came to the defense of the outfit's subtle subversion.
While Chalamet himself was absent from the Met, it appears he admired the fit from afar. Ahead of attending last night's National Board of Review Gala, Chalamet was snapped walking through NYC scaffolding in a look that can only be describes as a streetwear remix of Ocean's.
Whereas Ocean featured the anorak, Chalamet opted for the more versatile puffer jacket version of Prada's nylon outerwear (it's a piece he's been seen in at least once before, though in the previous outfit it was the pink Glossier hoodie he had layered underneath that got more attention).
Chalamet also paired the jacket with black pants, but made it more street appropriate by tucking them into some brightly colored socks (themselves inside a pair of New Balance sneakers). He topped the look off with a pair of red Sony headphones and a pair of Fendi shades.
Also of note: the addition of some new facial hair to Chalamet's visage. Chalamet's next role is widely rumored to be a young Bob Dylan in an upcoming biopic. Dylan himself was notably clean shaven when he was young, so don't expect the growth to stick around long.
Whatever the case, it's a pretty opportune time to channel Ocean's Prada style. He was just announced as the latest face of the Italian house. He stars in it's Spring/Summer 2020 men's campaign alongside director Nicolas Winding Refn and quickly rising actor Austin Butler.
How long the Timmée-Frank kismet will continue remains to be seen. Maybe Chalamet will end up as a celebrity ambassador for the line of underwear Ocean may or may not have recently hinted at launching?