Tina Turner Opens Up About Her Suicide Attempt During Her Marriage to Ike Turner
Turner's new tell-all memoir, My Love Story, is due out this month.
---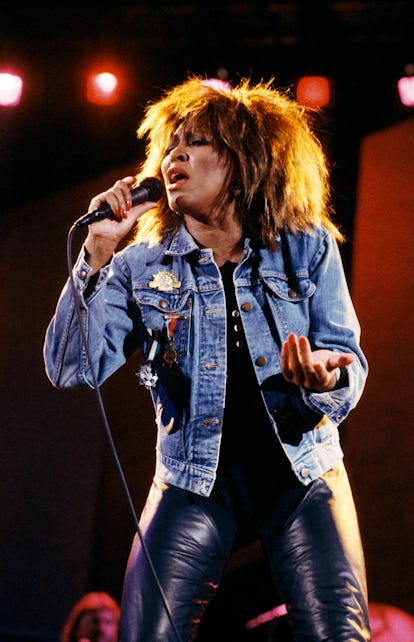 Photo by Getty.
In a new excerpt from her forthcoming memoir, Tina Turner reveals she attempted suicide at the lowest point of her relationship with her allegedly abusive ex-husband, Ike Turner.
My Love Story, due out October 16, charts Turner's personal and professional life, from her teenage years to the present, in her own words—and in the autobiography, she spares no words for her husband of 16 years. They first met when she was 17 and he, 25, and became involved several years later. But as Turner tells it, their relationship, at least for Ike, was financially motivated: Her first studio recording with his band raked in $25,000, and Ike immediately recognized the profit opportunity. "My relationship with Ike was doomed the day he figured out I was going to be his moneymaker," Turner wrote in an excerpt published by People magazine on Saturday. "He needed to control me, economically and psychologically, so I could never leave him."
To illustrate Ike's physical and emotional abuse, Turner uses a specific example: when he coerced her into changing her name from Anna Mae Bullock to Tina Turner. "I said I didn't want to change my name," she wrote. "First, he was verbally abusive. Then, he picked up a wooden shoe stretcher. Ike knew what he was doing. If you play guitar, you never use your fists in a fight. He used the shoe stretcher to strike me in the head—always the head," she continued, describing their relationship as "a mockery" of a partnership. "I was so shocked I started to cry. Ike ordered me to get on the bed. I hated him at that moment. The very last thing I wanted to do was make love, if you could call it that. When he finished, I laid there with a swollen head, thinking, 'You're pregnant and you have no place to go. You really have gotten yourself into something now.'"
Eventually, she sought out a doctor, who prescribed her sleeping pills when she said she "was having trouble sleeping." After dinner that night, she took the whole bottle. "I was unhappy when I woke up," she wrote. "But I came out of the darkness believing I was meant to survive."
And survive she would: After she fled her husband in 1978, at 39 years old, she eventually married Erwin Bach, her present husband, in 2013. Bach, she described in another extract from the autobiography, went so far as to donate a kidney when hers began to fail after she struggled with kidney disease. She was "overwhelmed by the enormity of his offer," she wrote, according to Page Six.
"Considering my age," she wrote, "my gender, my color, and the times we lived in, everything was strong winds against me. But you keep going."