Giorgio Armani Uniforms are Causing a Controversy at a Tokyo Public School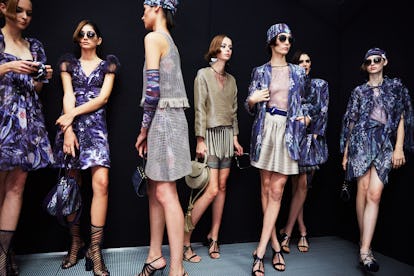 info@ambravernuccio.com
While Blair Waldorf once proved that you don't have to sacrifice style for school uniforms, one public elementary school in Tokyo has taken the notion of a designer dress code one step further. Taimei Elementary School happens to be situated in the middle of the city's high-end shopping neighborhood Ginza, and administrators there have decided the children should fit their surrounding. So they've mandated that the new school uniform should be exclusively Armani, according to Reuters.
Yes, students will be expected to be dressed in $729 outfits by Armani, with the option to add other items by the designer (by the way, there's no indication that Armani itself has anything to do with the plan other then the fact it happens to sell children's clothing. The outfits appear to be just uniform-appropriate basics the label already sells). The new, steep price tag is three times more expensive than the school's former uniforms, as Reuters notes. It's already become an international news item, and is causing much concern amongst the community. One skeptical parent told the Huffington Post, "I was surprised, and wondered why such luxury brand-designed uniforms have been picked for a public elementary school. I'm worried that a wrong notion that something expensive is good and something cheap is bad could be imprinted on children."
So far, the school has not offered explanations for parents' concerns. However, the school's headmaster Toshitsugu Wada has promised to offer more details soon, as he told the Huffington Post. "With humility, I take the criticism that explanation has been insufficient and not well-timed. I will go on explaining carefully to those concerned."
As eyebrow-raising as a uniform with a $729 price tag is, this isn't the first time a school has explored the idea of outfitting students in designer wear. Last year, Kanye West met with Calabasas High School officials to discuss the potential of rebranding the school colors and mascot (from coyotes to wolves), according to TMZ. Ye also proposed to design the school's athletic uniforms, which would come with a donation to their facilities. The school has yet to issue an official statement on whether or not that is happening. Diane Von Furstenberg also once designed boarding school uniforms, but they weren't for a real school. Rather, they were for a film directed by her daughter.
Related: Tilda Swinton Reveals Why She Loved Wearing a School Uniform and Hates Pantyhose