Tom Cruise Embarks on His Next Mission Impossible: Instagram
And he's already 'gramming.
---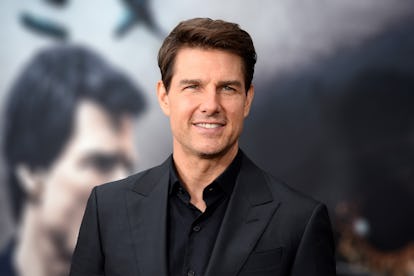 Andrew Toth/FilmMagic/Getty Images
You hear that sound? It's a cry of despair as a group of "influencers" and "tastemakers" realize their increasing lack of social media importance. Why? Because Tom Cruise just slid into Instagram smoother than he slid into that living room in Risky Business.
Cruise has become the latest prominent man about town to join Instagram, debuting his account on Thursday as a clever means of promoting his upcoming film Mission: Impossible—Fallout. As of press time, Cruise has 'grammed two photos of behind-the-scenes action, although only one of the snaps is him jumping out of an airplane. (Should be both, frankly.) He also has the requisite short-and-cheeky bio in place: "Actor. Producer. Running in movies since 1981."
Interestingly, although for wholly separate reasons, Cruise has become one of many A-listers to suddenly join Instagram this month. Despite strictly swearing off social media in the past, Natalie Portman debuted her Instagram page on New Year's Day as a means of supporting the Time's Up movement, entirely dedicating her account to taking action against workplace sexual assault and inequality. Cruise, however, is taking more of a fun, "hey, fans" approach, sort of like other recent stars who joined Instagram, like….Well. Never mind.
As for Cruise—and for the sake of some well-informed speculation—his foray into the world of Instagramming comes at an opportune time, to be honest. While his Mission: Impossible franchise has always been popular and bankable at the box office, his 2017 slate of films wasn't, uh, hugely successful. His take on The Mummy got slammed by critics around the world and was declared a box office bomb; and although his other film, American Made, was received far more kindly by critics, it didn't make a huge splash at the box office as intended.
You heard it here first: 2018 will be the year of Cruise.
Related: Quentin Tarantino Has Talked to Tom Cruise, Leonardo DiCaprio and Brad Pitt About His Next Movie
Cruise wears Rita Ryack leather pants. Accessories and jewelry styled by costume designer Rita Ryack.

Photographer: Mario Sorrenti Stylist: Arianne Phillips
Cruise wears Rita Ryack leather pants. Accessories and jewelry styled by costume designer Rita Ryack.

Photographer: Mario Sorrenti Stylist: Arianne Phillips
Photographer: Mario Sorrenti Stylist: Arianne Phillips
Models, from left: True Religion black leather shorts. Michael Spirito cuff; Alexis Bittar rings; Burberry belt; models own nipple ring. Emilio Pucci black and white Lycra swimsuit. Eddie Borgo cone bracelet, Tom Ford cuff (from left); Sequin ring. Cruise wears Rita Ryack snakeskin pants. Accessories and jewelry styled by costume designer Rita Ryack.

Beauty note: Pump up any hairstyle with a flash of Borghese Milan Volumizing Mousse.

Photographer: Mario Sorrenti Stylist: Arianne Phillips
Photographer: Mario Sorrenti Stylist: Arianne Phillips
Photographer: Mario Sorrenti Stylist: Arianne Phillips
Photographer: Mario Sorrenti Stylist: Arianne Phillips
Models, from left: 3.1 Phillip Lim silk blazer. Hervé Léger by Max Azria polyester bathing suit. Sequin ring. Eddie Borgo black rings; Assad Mounser dangling earring; LaCrasia Gloves gloves; model's own cross and stud earrings. Cruise wears Rita Ryack leather pants. Accessories and jewelry all styled by costume designer Rita Ryack.

Photographer: Mario Sorrenti Stylist: Arianne Phillips
Photographer: Mario Sorrenti Stylist: Arianne Phillips
Cruise: Hair by Michael White; makeup and tattoo design: Michele Burke. Models: Hair by Recine; makeup by Aaron de Mey at Art Partner; manicures by Champagne Satayakul. Models: Abbey Lee Kershaw at Next; Edita Vilkeviciute at DNA New York.

Fashion on models, from left: Versace cotton raffia top. Hervé Léger by Max Azria polyester-blend swimwear bottoms. Eddie Borgo earrings and choker; Michael Schmidt Swarovski Elements spiked cuff, Chrome Hearts 22k gold and diamond bracelet (from left); Chanel gloves; Double Happiness Jewelry 14k gold and tourmaline ring. 3.1 Phillip Lim silk-blend bralette. Salvatore Ferragamo beaded silk jacket. Barbara Bui cotton shorts. Venus by Maria Tash nose ring; Assad Mounser earring; Michael Schmidt mesh bracelet; Solange Azagury-Partridge 18k blackened-white-gold and diamond ring; her own earrings. Cruise wears Rita Ryack leather pants. Accessories and jewelry styled by costume designer Rita Ryack.

Beauty: On Cruise: Smashbox Limitless Eye Liner in Smoke. On models, from left: Smashbox High Definition foundation in Light L3; Photo Op Eye Shadow Trio in Screenshot; Lash DNA mascara in Jet Black; Blush Rush in Gingersnap; Limitless Lip Stain in Guava. Studio Skin foundation in 2.3; Smokebox Palette; Hyperlash Mascara in Blackout; Blush Rush in Paradise; Lip Enhancing Gloss in Tease.

Photographer: Mario Sorrenti Stylist: Arianne Phillips