Tracee Ellis Ross Wore Her Favorite Shirt From High School to a Polo Match
And she has not aged at all since in the meantime.
---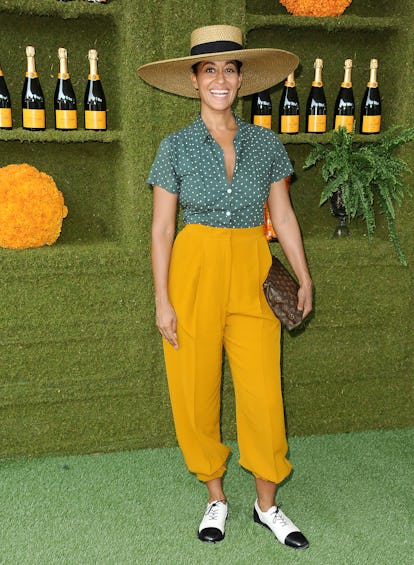 Jason LaVeris/FilmMagic
Tracee Ellis Ross is one of the more daring dressers in Hollywood, but for her latest unexpected look, she didn't have to go far to find it. Specifically, the Black-ish star dug into her closet when getting ready for the Veuve Clicquot Polo Classic in Los Angeles. Ross pulled together a look consisting of her most prized shirt from her high school years — a teal polka dot blouse — which she paired with "MY FAV CELINE PANTS ~ yet again" (as she credited them on Instagram). Ross, who put forward a more contemporary take on the iconic polka dot and wide-brimmed hat combination Julia Roberts' character wore in Pretty Woman, accessorized with a topper by Eric Javits and a clutch by Louis Vuitton.
What might be even more awe-inducing than the fact that Ross still owns and perfectly into her high school clothing, nearly three decades later, is that she's barely aged at all in the meantime. Shortly after sharing her Polo Classic look on Instagram, Ross went back into her archives and found a photo of her teen self in the polka dot Agnes B blouse. "MY AGNES B BUTTON-DOWN ~," she wrote in the caption of the photo, where she paired it with yet another straw hat — clearly, a timeless match — "modeling test shoot from high school (late 80's)." Unsurprisingly, the photo is loaded with comments from her followers pointing out that this very well could have been taken today, not in the 1980's.
As for Ross' secret? Apparently, it all comes from within. "I think it's all the joy inside," Ross told W earlier this year of the source of her appearance. "I don't know what 44 looks like, but this is what I look like at 44." She also spoke about her personal style, crediting her iconic mother Diana Ross as well as her father. "My dad has impeccable taste, too," she said. "Um, I think I come by it honestly through my mother, but I also think living in Europe changed a lot. I think my eye works for me. It's one of the things I get often—people say to me, 'You have so much courage in the way you dress." And I'm like, "Do I?'" If not in the way she dresses, then in the way she poses on the red — er, green — carpet. Even Ross would agree with that.
Related: Kirsten Dunst Rewore a Christian Lacroix 12 Years Later
Tracee Ellis Ross Had the 18th Birthday to End All Birthdays: