Meet Trinity Likins, the Newcomer Who Will Play Cole Sprouse's Sister on Riverdale
Jellybean "JB" Jones will make her way to Riverdale this fall.
---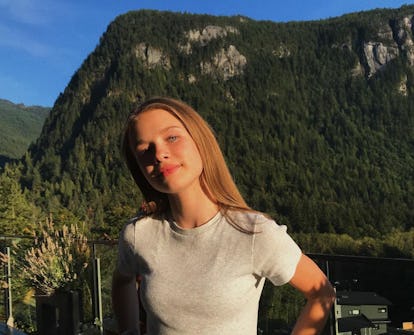 Trinity Likins / Instagram
Riverdale is about to return for its third season, and with it, the titular town is getting a little bit bigger: On Sunday, it was announced that Gina Gershon and Trinity Likins would be joining the cast as the scam-artist mother and sister of Cole Sprouse's Jughead.
Gershon and Likins will make their entrée into Riverdale in December; on the series' continuum, until now, Gladys and Jellybean "JB" Jones, played by Gershon and Likins, respectively, have been living (and running scams) in Toledo, Ohio. Gladys, according to Variety, is a "businesswoman and a biker who runs a salvage yard that doubles as a Southside Serpent compound"; her younger child has inherited her mother's con-artist ways and is described as "wise beyond her years."
Gershon, a renowned character actress, is an alumna of Rescue Me, Curb Your Enthusiasm, and the truly bonkers Nicolas Cage and John Travolta film Face/Off; she's also appeared on Glee, Elementary, Younger, Empire, and Ugly Betty. Likins, by contrast, has been plucked out of relative obscurity—though that obscurity is sure to change with this announcement, which has already prompted her Instagram follower count to soar by several thousand. Consider the sudden fame the likes of Camila Mendes and Lili Reinhart have been thrust into since the show premiered. So here, get to know Riverdale's newest resident—Trinity Likins is about to be a name you'll want to know.
She's a native of Squamish, in British Columbia.
Likins has primarily appeared in local Canadian productions and has gone up for some commercial work. With her collarbone-length red hair, she bears something of a resemblance to another previously unknown, now-everywhere young talent: Stranger Things' Sadie Sink.
She has just two credits to her name.
Per Likins's IMDb, she has appeared in the made-for-television movie Christmas in the Air and the CBC and Sundance TV miniseries Unspeakable, which depicts the AIDS crisis in Canada in the '80s. She has said she'd like to do more movies, though.
She's wanted to be an actor since she was practically an infant.
According to an interview with a local paper in Squamish, the young star had been begging her parents for agency representation from a young age—but it wasn't until she won Premiere, a talent show, that things finally got underway.
She's a bit of a francophile.
Though Likins's Instagram feed, where she posts as @trinity_may6, is relatively short—dating back less than two years—a solid number of those posts depict Paris, where Likins has taken in the Eiffel Tower and some croissants (in between adventures in Monaco and Biarritz, just a short trip away).
She loves her dog.
One of Likins's saved Instagram stories is titled "My fur baby." Need we say more?