True Whitaker, Daughter of Forest Whitaker, Is Delighted to Share Her Name With True Thompson, Daughter of Khloé Kardashian
The 19-year-old scion proves that the newest Kardashian baby is in good company, name-wise.
---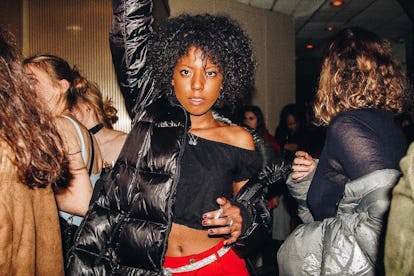 Photo by @truewhitaker.
Thanks to True Thompson, another Kardashian newborn has caused a spike in searches for creative and unconventional baby names. True may be an uncommon name, but there are actually a few other individuals out there with the appellation, including True Whitaker, the daughter of the Oscar-winning actor Forest Whitaker and Keisha Whitaker.
At 19 years old, True Whitaker is a sophomore at New York University's Gallatin School of Individualized Study, where she studies screenwriting and songwriting. Growing up in the suburban Hollywood Hills, Whitaker never got a taste of the city life she'd always craved, which is why she decided on NYU for college, but she also admitted that she is counting down the days until she can move back to Los Angeles after she completes her studies. Having a father who was the fourth black American in history to win an Academy Award, for portraying Idi Amin in the 2006 film The Last King of Scotland, before his recent role in Marvel's influential Black Panther, has of course had an impact on the scion and her career goals. "My whole life, I've seen different aspects of film," Whitaker told W. "My dad writes sometimes, and obviously he's more of an actor or director, but I've always been more into the writing side, behind the scenes," she went on.
Her father's involvement in Marvel's biggest blockbuster has made Whitaker not only proud of her dad's achievements but excited about the future of film audiences' receptions of such a record-breaking cultural moment. "Black Panther is really important for the black community in general," she said. "The fact that now black kids have a superhero to look up to and something that we can all look up to is cool, and the fact that my family is included is awesome. I heard they might do a Disney ride for it, and that's superexciting for me!"
Though Whitaker has always had a knack for sticking with the behind-the-scenes aspects of filmmaking, she's not afraid to step in front of the camera. "It's always been a thing that's fun and exciting for me," she said of the summer auditions she's preparing for, at the suggestion of her father. "As of now, I have to finish this semester before [my dad] lets me really do what I want to do, but I'm definitely interested in acting," she added, so it might be a little while before we see the scion on the big screen.
Whitaker also keeps up with the Kardashians, so of course, moments after Khloé Kardashian revealed her daughter's name, she had heard the news that, although there are "barely any Trues in the world," she would no longer be the only True in town. Regardless of her Instagram commentary on the Tristan Thompson cheating scandal (she previously wrote, then deleted, a caption consisting of a piercing dig at Thompson right after news of the scandal began to percolate in April), Whitaker told W that she fully supports Kardashian's naming decision and is more than happy to share her first name with another scion. "Oh, I love it! I think it's so cute. I was so shocked," she told W on the phone. "Obviously, I like my name. I always get compliments, and people say it's cute, so it's awesome to see someone else have the same name as me. Just having the name True has added so much to my personality, and I'm excited to see how this little girl grows too."
Whitaker initially admitted that she was unsure about the reasoning behind her name, but with two daughters named Sonnet and Autumn, and a son named Ocean, her parents have always had creative nomenclature on the brain. After asking her mother for more details, Whitaker discovered that her parents originally planned to name her Truth before deciding on True, which was inspired by Lauryn Hill's version of "Can't Take My Eyes off of You" by Frankie Valli. "I remember to this day my mother singing the lyrics 'You're just too good to be True' to me in my little cradle, which now is so cute because Khloé can carry on the tradition and sing it to her little True."
Related: Khloé Kardashian Reveals Newborn Daughter's Name in Sweet Instagram Post