Uma Thurman Made Male Photographers Step Aside for Their Female Colleagues at Her Broadway Debut for "The Parisian Woman"
"That's the way things are going these days."
---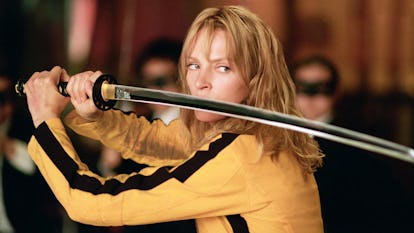 Miramax Films
The world has been on Uma Thurman watch ever since the actress' response to a question about the recent wave of sexual assault allegations went viral. While she has yet to elaborate on her thoughts, telling her Instagram followers to "stay tuned," Thurman did offer a small statement last night. While walking the red carpet at the premiere of her Broadway debut, "The Parisian Woman," Thurman took a notably feminist stance.
As she was posing alongside her cast members Josh Lucas, Blair Brown and Phillipa Soo, Thurman paused the moment to request that the male photographers capturing them clear a path for their female colleagues. "That's the way things are going these days," she said, according to the New York Daily News.
Thurman didn't elaborate on her comment but her willingness to put women front and center is in tone with a cultural shift — stemming in part from Gretchen Carlson's lawsuit against Fox head Roger Ailes that led to his firing — where there are finally real consequences for sexual assaulters such as Harvey Weinstein, James Toback, Kevin Spacey, Russell Simmons, and Matt Lauer, to name a handful.
Initially when Thurman was asked about the mounting sexual allegations within Hollywood, she told Access Hollywood, "I don't have a tidy sound bite for you because I'm not a child and I have learned that when I've spoken in anger I usually regret the way I express myself. So I've been waiting to feel less angry and when I'm ready I'll say what I have to say."
Last week, though, on Thanksgiving, Thurman offered an update. "I am grateful today, to be alive, for all those I love, and for all those who have the courage to stand up for others," she wrote in an Instagram caption for a photo from Kill Bill. "I said I was angry recently, and I have a few reasons, #metoo, in case you couldn't tell by the look on my face. I feel it's important to take your time, be fair, be exact, so… Happy Thanksgiving Everyone! (Except you Harvey, and all your wicked conspirators – I'm glad it's going slowly – you don't deserve a bullet) -stay tuned."