Inside UNICEF's Summer Gala, Where Emily Ratajkowski, Ricky Martin, and Heidi Klum Party Together in Italy—For the Children
The party on the Sardinian coast raged into the early morning.
---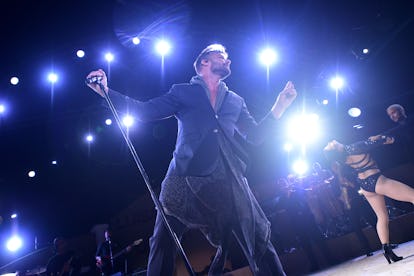 Anthony Ghnassia
You're not imagining it: just about every celebrity is in fact in Italy this summer. There's J.Lo and A.Rod, Bey and Jay, Leonardo DiCaprio and girlfriend Camila Morrone (no shortened couple moniker there yet, but only a matter of time), et al. And on Friday night, that list grew exceptionally longer, as the likes of Emily Ratajkowski, Heidi Klum, Ricky Martin, Rita Ora, Jasmine Sanders, and basically the entire Victoria's Secret Angels roster touched down in Porto Cervo, Sardinia. The reason? The children, of course.
Specifically, it was for the inaugural Unicef Summer Gala, presented by LuisaViaRoma, a charity event to support UNICEF's activities to protect children's rights worldwide, which all but took over the tiny coastal town with a full-blown black tie bash that lasted long into the early hours of the morning, complete with a live auction and performances by Martin, Ora, and Sofia Carson.
"They've never done [a gala] in Porto Cervo… and I'd never do something that has been done before," said Andrea Panconesi, LuisaViaRoma CEO & Founder ."We started with 400 people, then we moved to 500, and now we are at almost 600, which is unbelievable. I wanted to do something extraordinary. We are here for the children. And I want people to have fun. We are doing it for a good cause, but it's also a glamorous evening."
Glamorous may have been an understatement. The event bore a striking resemblance to the famously posh amfAR Cannes Gala (and rightfully so—it was produced by Andy Boose and Stefan Santoni of International Society Group, vetarans of the French event), with celebrities dressed in sparkly—and often sheer—gowns filling the seaside villa, which had been outfitted in thousands of fresh flowers and tuxedo-clad waiters offering countless glasses of champagne.
"Let's go try to see Rita Ora up close," suggested one Italian attendee, weaving through the crowd, seemingly oblivious to model Shanina Shaik, holding hands with new husband DJ Ruckus, brushing by him. Nearby, Klum was standing precariously close to the space's giant swimming pool, hanging on the arm of rocker boyfriend Tom Kaulitz. "I'm so honored to be a part of the UNICEF family for so many years," she said. "It's so important what they do, and I've gone on many field trips before and seen first hand so many people on the field helping children, and truly, it is amazing what they do. Education is super important, and it's important that [people] are here, spending money,"
And spend, they did. As guests sat down to a four course meal, auctioneer Alexander Gilkes took to the stage to goad the audience into bidding on a number of high profile lots, including artworks by Francis Bacon, Pablo Picasso, RETNA, a Fiat 500 Riva, and Chopard jewelry, the latter of which was modeled by Ratajkowski.
"This is a special one," she offered. Special enough to add on a kiss on the cheek to the winning bidder to raise the asking price? Not quite—she is a married woman now, after all. (An air-blown kiss from the stage still raised the final bid to 135,000 euros.)
After the final lot was sold, it was time to dance—and what better soundtrack than the newly Emmy-nominated Ricky Martin? The multi-hyphenate took to the stage with a number of backup dancers—not that he needed the extra help, judging by his own very impressive dance moves—racing through his greatest hits, starting with "Livin La Vida Loca" and ending with "The Cup of Life" (World Cup fever is still very much alive and well in Europe, it would seem).
It was past 1 a.m. by the time Martin wiped the final bead of sweat off his brow, but this was Italy, after all, and the party was just beginning. So, to the dance floor it was, where DJ Ruckus kicked off the after-party with a mix of Euro-centric hits (Daft Punk; a techno remix of "Sympathy For the Devil") and contemporary hits (Drake, mainly). It was a sweaty, ear-shattering dance party you'd expect from a Mediterranean gala in August, but luckily, there was a solution to be had: "By the end of the night, I want everyone in the pool," shouted to one reveler, to cheers of approval. Living la vida loca, indeed.