Nigo's Tokyo: The Ultimate Insider's Guide
Nigo, the Uniqlo creative director, on where to go for good vintage, Japanese-style Indian Curry, and kimonos.
---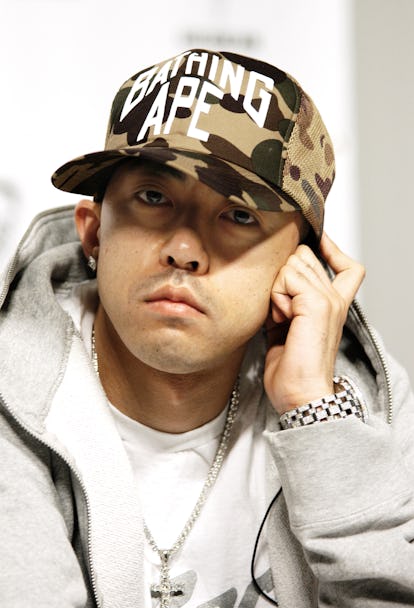 When Uniqlo hired the designer Nigo in 2013, he became the company's first creative director of the popular UT graphic shirt line. It was no surprise that the Japanese retail titan made room for him, since his own streetwear brand BAPE (A Bathing Ape) fueled a teen sneaker craze that rivaled even Nike and he helped Pharrell start his own line, Billionaire Boys Club. He also found the time to DJ for the popular Japanese hip hop group, the Teriyaki Boyz, and today has three restaurants in Tokyo. During his time with Uniqlo, Nigo has brought his multi-facited background to the brand, incorporating everything from Mickey Mouse to Metallica in his creative work. Most recently, he partnered with the Brooklyn-based artist KAWS on a graffiti-inspired collection. Still, despite his lofty title, he is still the go-to guy for what's trendy and original in Tokyo.
What's your favorite neighborhood to shop in and why? Probably Killer Street in Harajuku, It hasn't changed that much over the years.
Local delicacy you can't live without: Japanese style Indian Curry from my restaurant Curry Up.
Favorite Tokyo stores (that are only in Tokyo): Pacific Furniture Service in Ebisu. I go there about once a week.
Favorite department store: Isetan in Shinjuku especially the food hall.
Favorite specialty store: Motoji kimono store in Ginza.
Best Tokyo vintage store(s): Suntrap in Koenji.
Date night restaurant: The New York Grill at the Park Hyatt.
Late night spot: Orchid bar at the Okura Hotel.
Favorite themed restaurant/bar/café: Toraya Café in Akasaka.
Best ramen in the city: Ippudo in Toyama.
Favorite sushi spot: Kyubei Sushi at the Okra hotel.
Favorite spring activity: Taking a cruise around Tokyo bay on my boat.
Hotel where you tell your friends to stay: Andaz hotel in Toranomon.
Where you go for some inspiration: Daikanyama Tsutaya book store.
Someplace you always avoid: Roppongi at night.
Photos: Sarah Snyder Makes Her Fashion Campaign Debut
KAWS x Uniqlo campaign starring Sarah Snyder.
KAWS x Uniqlo campaign starring Sarah Snyder.
KAWS x Uniqlo campaign starring Sarah Snyder and Jacob Riley.