Valentino Is the Latest Luxury Brand To Get Into the Beauty Business
Get ready for Valentino beauty.
---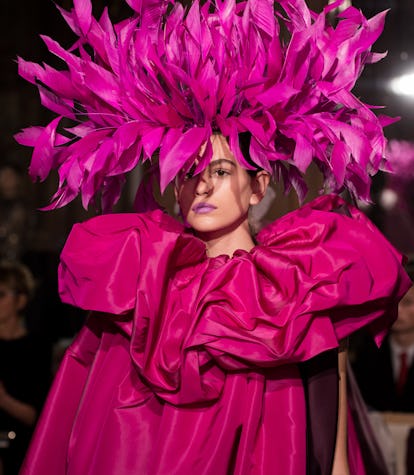 Getty.
The beauty gurus at L'Oréal must have worked over the long weekend, because the company took Monday to announce a brand-new beauty and fragrance partnership with Valentino.
According to a press release, L'Oréal will create, develop, and distribute forthcoming Valentino makeup and fragrance. With its recent acquisitions like hair color brand Pulp Riot and augmented reality beauty company Modiface, the beauty giant seems to be angling for the millennial market.
"We are thrilled to have been granted the license of Maison Valentino," L'Oréal deputy CEO Nicolas Hieronimus said in a statement. "With its unique combination of prestige and modernity, Valentino definitely will appeal to millennial consumers around the globe and ideally complements our brand portfolio."
Valentino CEO Stefano Sassi echoed the sentiment: "We are very excited to start this new venture together with L'Oréal to further develop our beauty business. We believe Valentino has great potential within the category and that with L'Oréal's unparalleled expertise in the sector, we will be able to realize that potential."
Valentino has long cited references from hip-hop to Renaissance paintings in its runway beauty looks, so the potential is there for innovative makeup that may even be affordable under the banner of L'Oréal. On the runway, Valentino is known for ethereal beauty with modern flourishes, like angular cat eyes and silvery, delicate-looking skin. Makeup artist Pat McGrath has long been behind Valentino's runway beauty greatness, and we know that McGrath has no problem turning her own beauty style into mass-market products. Will she be on hand to offer guidance? If so (or if the brand can release a product to help our skin glow from within like this), we're already sold.
The partnership goes into effect January 2019, so you have plenty of time to buy all of Fenty and replenish your savings before Valentino beauty hits.
Related: Australian Model Charlee Fraser's Favorite Local Beauty Product Is Technically a Nipple Cream