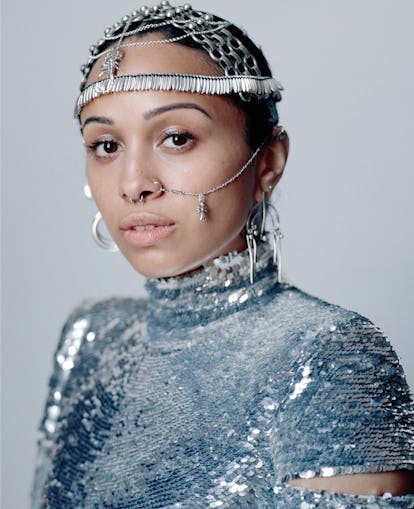 Photographs by Jody Rogac, Styled by Lana Jay Lackey; Hair by Edward Lampley for Amika at Bryant Artists; Makeup by Allie Smith for Dior at BRIDGE; manicure by Ada Yeung for Chanel at Bridge; Photography assistant: Justin Leveritt; Photography intern: Caroline Fortuna; Fashion assistant: Jay Hussa
It's 2 a.m. on a Saturday in late July, and Jazmin Venus Soto, better known as Venus X, darts about the pink-and-purple-lit stage at the Polonaise Terrace, a former banquet hall in the Greenpoint neighborhood of Brooklyn. Here, a diverse crowd of downtown designers, models, and outer-borough cool kids has converged, sporting vintage raincoats, metal cuffs and chains, and Adidas baseball shirts. They are lured to this weekly party known as GHE20G0TH1K as much by the eminently affordable $10 cover charge as by its mission to make ­marginalized voices—gay, lesbian, trans, black, brown—heard loud and clear. The music quick-shifts between dark wave and Chicago footwork, remixed Dirty South rap and the Shangri-Las' "Leader of the Pack."
Tonight's featured performer is Mhysa, a self-described queer, black femme musician—and the alter ego of E. Jane, a multimedia ­artist from Philadelphia. Dressed in a black tube top, hot pants, lug-soled ankle boots, and a pink studded dog collar, Mhysa drapes herself at the edge of the stage and delivers a set that veers between dance-ready numbers from her debut album and songs that fuse a chanteuse, R&B slow-burn vibe with arch social media self-awareness, addressed to her "Bb." Venus X's smile is enormous and excited. Soon, the floor has grown packed and sweaty, and, by three o'clock, girls and boys are tossing their bags in a pile, dancing exuberantly around them, caught up in the glorious, high-octane moment.
A long-running, location-hopping, boundary-pushing regular event, GHE20G0TH1K was created in 2009 by Venus X, who is also its resident DJ and the powerhouse behind both the party's namesake music label and its affiliate downtown Manhattan boutique, Planet X. After starting as a monthly Brooklyn bar gig, GHE20G0TH1K moved to various warehouses and, for a particularly memorable stretch, to a beloved basement on the Lower East Side—and ignited an after-hours ­revolution.
"You could tell she had a total vision of the environment she wanted to create," says Aaron Bondaroff, a gallerist and cofounder of Know-Wave radio, where Venus X broadcasts a show of her mixes. "She came to the scene on a mission." Here was a party that intentionally blurred musical and aesthetic divisions, a crowd assembled from seemingly disparate scenes: voguers and skaters, club kids and punk kids, rappers and artists. Its free-spirited attitude toward sex and gender anticipated the shifting national consciousness around identity politics.
Born to a Dominican mother and an Ecuadorian father, Venus X, 31, identifies as queer and champions fluidity. "I like who I like," she states simply. The same could be said of her musical tastes. Working solo (or, in the party's earlier days, with fellow DJ and Hood by Air cofounder Shayne Oliver), Venus X challenges the expectations of the dance floor with fast cuts of music and spoken word sampled from all manner of sources—Christian Death mixed with baile funk mixed with Three 6 Mafia mixed with sissy bounce laced with samples from Al Jazeera news stories. As Ashland Mines (aka Total Freedom), another of the party's longtime DJs, puts it, "Shayne and Venus X got everyone wrapped up in a new way to see music." Meanwhile, the twinning fashion-and-music careers of GHE20G0TH1K's core members took off. In 2013, Hood by Air made its Fashion Week debut with rapper A$AP Rocky modeling the label's coveted elevated streetwear. Venus X and Total Freedom catapulted into greater international demand, with Venus X appearing in videos by A$AP Rocky and opening for M.I.A. on tour. After Rihanna added the hashtags #ghetto and #goth to Instagram posts of some of her own editorial shoots, Venus X called out the pop star for appropriating the party's aesthetic without crediting the source. "The mainstream has to seize the best ideas and make money off them," concedes Venus X, who has mellowed out a bit since. "But that doesn't mean I have to stop doing what I do, stop evolving or experimenting or supporting the people I support."
When Venus X says "our" or "we," she's referring to all parts of her operation, as well as the larger community she has helped forge. Where others might drop the word "brand," Venus X prefers the term "ecosystem"; when she talks about the DJs she regularly invites to perform, she uses words like "platform," "grow," and "incubate." Also taking the stage in Greenpoint that night is LSDXOXO, a pink-haired, proudly queer, proudly black Philadelphia producer whose album F— Marry Kill was the debut release on the GHE20GOTH1K label. "There's not a lot of girl DJs, not a lot of girls who throw parties, not a lot of girls who run labels, or run businesses," says Venus X, adding that, gender or sexual identity aside, the most exciting voices right now are those with a female sensibility.
Take Lotic, a gay male producer and resident DJ at Janus club, in Berlin, who headlined the 20th anniversary season of Warm Up, MoMA PS1's music series (Venus X is one of its curators). Or Juliana Huxtable, the black trans performer who traverses the worlds of nightlife and art, using her body as a means of expression; or Honey Dijon, the black trans DJ who has worked parties for Balenciaga and Louis ­Vuitton and is an outspoken advocate for queer and trans people. Or False ­Witness, a Bard College M.F.A. candidate whose caustic and queer EP The Art of Fighting is the latest GHE20G0TH1K release. "I have a very special network of friends," Venus X says. "It's not really geographical; it's more like a floating network on the Internet, like WhatsApp, iMessage, SoundCloud. Playing each other, hitting each other up in the big cities, exchanging music, knowing the other exists." Indeed, satellite scenes have sprung up around the globe, including Paris; Taipei ("very girl," according to Venus X); and Seoul ("very boy").
If GHE20G0TH1K is a platform for experimental DJs, Planet X is a breeding ground for similarly risk-taking fashion. Tucked away on the third floor of a late-19th-century building on Canal Street, the store is also Venus X's de facto HQ, where DJs, designers, and videographers drop in to talk ideas, swap music, stage shoots, or just try on clothes to wear out that night. They might walk away with an ­elaborately embellished dress by Lou Dallas or a graphic hand-printed shirt by skate-minded brand Kamikaze, or pill bottles containing USBs of past GHE20G0TH1K mixes. (Recently, Venus X was one of 12 finalists tapped to design a specialty Air Max sneaker for Nike's Vote Forward campaign; her red-and-yellow color scheme was inspired by the armed forces' DEFCON alert system.)
A musical sponge from an early age, Venus X grew up in an immigrant family in the Washington Heights neighborhood of Manhattan and developed a taste for Sade, Anita Baker, and Bon Jovi thanks to her mother. She was also exposed to salsa, merengue, MTV, pop, Soul Train, and bachata, "sad old-man music, crying music," she recalls. Her father, a graffiti artist, always thought Venus would look good on the side of a building, she says. He was, in her words, "a career criminal," and she grew up mostly without him. "I didn't know enough yet to be angry at the system, so I was just angry at the fact that I had an absent father," she says. "I was angry that we were poor. People think of tragedy, but they don't think of poverty and broken families in this way."
These days, however, she's not looking back—it's the next generation that she wants to influence most. "I'm curious about how we relate to the kids who can't come to our parties yet," Venus X says. "It's exciting to me because if what I do affects Rihanna, then it affects them. So how do I position what I do in a way that is accessible to a 20-year-old, but also to a 12-year-old who needs to know, What music should I listen to? Am I allowed to be gay? Can I dress like a boy? Can I dress like a girl? We're looking way ahead for them, because you shouldn't have to wait until you're 21 to figure this stuff out."
Bill de Blasio, Here's Some Nightlife Ambassadors For You: Susanne Bartsch, Dapper Dan, Lion Babe, and More
From left: Louis Vuitton jacket and top. Stella McCartney coat; Maria Canale earrings; Falke tights. Saint Laurent by Anthony Vaccarello jacket, shirt, and pants; David Yurman necklace. Alexander McQueen top and pants; Kat Kim earrings; (necklaces, from top) Shay, Mitchel Primrose. Burberry coat; Spinelli Kilcollin earrings; Agent Provocateur garter belt; Falke stockings; model's own necklaces, rings, and bracelets.

Photographs by Terry Richardson, Styled by Clare Richardson
From left: Diane von Furstenberg dress; Tom Ford top; Stella Luna boots. Diane von Furstenberg top; 3.1 Phillip Lim pants; Kenneth Jay Lane earrings. Dundas by Peter Dundas jumpsuit; Bulgari earrings; Rockins scarf (worn as belt).

Photographs by Terry Richardson, Styled by Clare Richardson
Joining a cast of models at New York lounge Paul's Baby Grand are (clockwise from top left) chef and TV personality Eddie Huang, artist and equestrian Cuba Tornado Scott, designer Heron Preston, nightlife fixture Kyle Farmery, and musicians Young Paris and Hirakish.

From left: Tom Ford top and skirt. Versus Versace jacket; Moschino pants. Gucci shirt and pants. Middle row, from left: Paco Rabanne top and skirt. Saint Laurent by Anthony Vaccarello dress and shoes. Heron Preston jacket, pants, and hat. Yves Salomon coat; Giorgio Armani jacket; Pallas pants. Back row, from left: vintage Helmut Lang top from David Casavant Archive; Proenza Schouler pants. Zadig & Voltaire dress. Beauty note: Skin worth celebrating starts with Glossier Body Hero Daily Perfecting Cream.

Photographs by Terry Richardson, Styled by Clare Richardson
Lion Babe singer Jillian Hervey boogies down with Huang.

From left: Marie France Van Damme bodysuit; Giorgio Armani gloves. Giorgio Armani jacket; Armani Exchange shirt; Huang's own necklaces.

Photographs by Terry Richardson, Styled by Clare Richardson
From left: Paco Rabanne top and skirt. Ports 1961 sweater. Saint Laurent by Anthony Vaccarello dress and shoes; Lynn Ban earrings. Vintage Helmut Lang top from David Casavant Archive; Proenza Schouler pants. Zadig & Voltaire dress.

Photographs by Terry Richardson, Styled by Clare Richardson
Preston kicks it with model and It girl Paloma Elsesser.

From left: Heron Preston jacket, pants, and hat. Berluti jacket; 
Joseph pants; Bulgari necklace; Elsesser's own bra.

Photographs by Terry Richardson, Styled by Clare Richardson
Photographs by Terry Richardson, Styled by Clare Richardson
Harlem haberdasher Daniel Day, aka Dapper Dan, is the man of the moment. Aside from ­starring in Gucci's fall ad campaign, he's also working on a collection with the brand, reopening his New York boutique, and has a few custom-designed pieces currently featured in the Museum of Modern Art exhibition "Items: Is Fashion Modern?"

From left: Balmain dress; Mitchel Primrose necklace; Jimmy Choo boots. Saint Laurent by Anthony Vaccarello dress and shoes; Isabel Marant earrings. Day's own clothes. Saint Laurent by Anthony Vaccarello dress; R.J. Graziano earrings; Tom Ford boots.

Photographs by Terry Richardson, Styled by Clare Richardson
Day wears his own clothes.

Photographs by Terry Richardson, Styled by Clare Richardson
Young Paris, who just released his third EP, Let Me Love You, takes the party to a more intimate level.

Clockwise from left: Yves Salomon coat; Giorgio Armani jacket; Pallas pants; R.J. Graziano earrings; Jimmy Choo shoes; Farmery's own rings. The Kooples jacket; Alexander Wang shirt; Iro skirt. Louis Vuitton jacket and turtleneck; Falke tights. Versace coat; Faith Connexion pants; Anne Sisteron earrings; Fernando Jorge ring (middle); Young Paris's own watch and rings. Stella McCartney coat; Maria Canale earrings; Falke tights. Beauty note: You'll 
be saving face with Urban Decay Vice Liquid Lipstick in Psycho.

Photographs by Terry Richardson, Styled by Clare Richardson
Hermès bodysuit; Gucci pants; Bulgari earrings; Stuart Weitzman sandals.

Photographs by Terry Richardson, Styled by Clare Richardson
Susanne Bartsch (left), whose fabulous wardrobe dating back to the 1980s is currently on view at the Tampa Museum of Art, maintains her status as queen of New York nightlife.

From left: Bartsch's own clothes. Moschino jacket and pants; Atelier Swarovski by Christopher Kane necklace. Rachel Zoe Collection dress.

Photographs by Terry Richardson, Styled by Clare Richardson
From left: Alexander McQueen jacket, bodysuit, and pants; Butani earrings. Burberry coat; Scott's own hat, earring, and necklaces. Ports 1961 sweater; Moschino pants; Hoorsenbuhs necklace; (rings, from top) David Yurman, Rebus.

Photographs by Terry Richardson, Styled by Clare Richardson
From left: Louis Vuitton jacket, shirt, pants, and boots. Louis Vuitton coat and shoes; Spinelli Kilcollin earrings; (necklaces, from top) Mitchel Primrose, Shay; Roule & Co. ring; Falke tights.

Photographs by Terry Richardson, Styled by Clare Richardson
Scott cuts a striking figure straight out of her grandfather Ridley Scott's iconic film Blade Runner.

Calvin Klein 205W39NYC coat and belt; Spinelli Kilcollin earrings; Falke tights; Scott's own hat, necklaces, and rings.

Photographs by Terry Richardson, Styled by Clare Richardson; Hair by Esther Langham at Art + Commerce; makeup by Frank B. at the Wall Group; manicures by Honey for Zoya at Exposure NY. Set design by Andy Harman at Lalaland Artists. models: Cuba Tornado Scott at Women Management, Lili Sumner, Casey Legler, Grace Elizabeth, Grace Hartzel, and Hiandra Martinez at Next Management, Veronika Vilim at Wilhelmina, Achok Majak at DNA Model management, Kiki Willems at IMG models, Dylan Christensen at APM model management, Frank Nadolny at Ford models; digital technician: Rafael Rios; photography assistant: Jordan Zuppa; fashion assistants: Annestine Bae, Jessica Murray, Alban Roger; produced by Tali Magal at Freebird Productions; Shot at Paul's Baby Grand
Related: Who Should Be New York's Nightlife Mayor? Meet Our Nominees
Shayne Oliver is inspired by nightlife: