Ten Years In, Victoria Beckham Is Still Having Fun With Fashion
An interview with the always self-aware designer on her 10-year anniversary in fashion.
---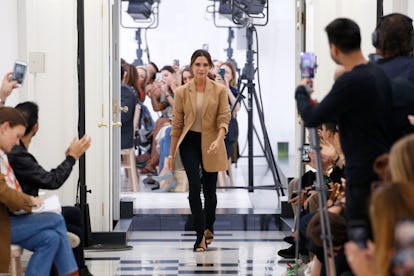 Estrop
Entering 36 Dover Street, in London, there was no mistaking whose store this was: Victoria Beckham was quite literally everywhere. There she was on the wallpaper—featuring imagery from her new campaign with Juergen Teller, which re-creates an iconic Marc Jacobs ad featuring Beckham with her legs poking out of a shopping bag—and in statue form. And then, there was Beckham herself, in the flesh, descending the grand staircase, dressed head to toe in her own designs.
It had been quite the few days for the designer: There had been family reunions, customer events, late-night parties, and, of course—the reason for all the fuss—her 10th anniversary collection, held next door in an adjoining gallery during London Fashion Week. "The response has been so incredible," Beckham said, as she explained each piece in the new collection. "This isn't a retrospective collection in any way, nor has one particular season influenced the collection. But you can see the codes throughout the collection, such as celebrating the female form."
Since her debut, Beckham has gone from being known as Victoria Beckham, Posh Spice, to Victoria Beckham, respected fashion designer. She's won both critical acclaim and commercial success, with a devoted customer base who flock to her refined, modern designs, currently laid out on the top floor of her spacious store. "I really feel that this is the start of a new chapter with the investors coming on board, and I've got a great chairman in Paris," she said of the milestone. "I have a CEO that started two weeks ago, and new offices in Hammersmith, so we are all under one roof, almost. It feels like the start of a new chapter."
Also on display was her 10-year-anniversary capsule collection, already available at 36 Dover Street and on VictoriaBeckham.com, which, in addition to a new bag and sunglasses, includes a T-shirt with an image of her tongue-in-cheek new campaign—a reminder that, as serious as she takes her business, Beckham still knows how to have fun with fashion. Here, the designer opens up about 10 years in business, and why she still gets nervous before a show,
How much did your 10-year anniversary impact the designing of this collection?
I didn't want it to be a retrospective in any way. It was a question that came up, because we had brainstorming sessions before we started working on the collection. I spent a lot of time looking back over the past collections, and we realized we had established very strong codes. It was just looking at those codes, being true to myself and true to my customer, and getting to know her more and more and more over the last 10 years. Changing up the casting and the new environment also made an impact. The gallery in which we showed felt very much like one of the houses in which I showed my first presentations in New York. So when people came in, it felt familiar, but new and different and fresh.
Why did you change up the casting for this season?
We've been saying, "Putting Victoria in Victoria Beckham since 2008," but I wanted to make this a collection that my customer could relate to—something that felt very honest, and very me. I wanted it to be about women, not, "Who is the Victoria Beckham woman?" It was a real mix of ages, and to see Stella [Tennant] in the clothes was so exciting for me. I mean, it really was.
At what point did you decide to show in London?
We've been talking about it for a long time. It's been great to feel a part of London Fashion Week. Now felt like the right time, celebrating 10 years and coming home. I've got family members that have never been to the show. It was great to be very inclusive—I had customers flying in from Mexico, from Australia, from all around the world—to really find a way to celebrate with my customers, as well. We had customer events, we had lunch, we had a trunk show, we had a signing here of the T-shirts.
And how did the new campaign itself come to be?
When Marc Jacobs featured me coming out of a shopping bag a decade ago, it really was just the beginning of my journey into the fashion industry. It was funny and ironic and came out just as I was about to present my debut collection. I have always put all of me into my brand, and I wanted to convey that message with these images. This campaign was about revisiting that creative, but this time with my own spin, and my own branded bag. There's a real message in it for me, that I am and have been literally "putting Victoria into Victoria Beckham since 2008."
How was it re-creating that iconic campaign years later, compared to the original shoot? Did you speak to Marc about it?
Marc gave me his blessing to re-create the shot, and Juergen [Teller, the photographer] agreed to collaborate with me again, which was just incredible. It was important to me to have Juergen appear in one of the images as well. The collaboration with him was incredibly special, and I wanted to document it.
Why is important to have fun in fashion?
As much as I take what I do very seriously, I also want to have fun. I like to poke fun at myself, and I think that surprises people. I think it's incredibly important to stay humble, and design collections that feel authentic and honest.
Did you feel different emotions showing here at home versus at New York Fashion Week?
It's always emotional. To start, you're exhausted, and you're constantly questioning yourself right up until the looks actually go out on the catwalk. But there's a different kind of emotion coming home. I did feel more pressure. It's a different way of working. We had to fly different girls in, so we were casting over the summer, which typically we don't have to do. It's been quite a few months of planning. And we had the [British] Vogue cover, the Vogue videos, and we did the campaign, and then the show. So, it's been the best part of a year that we've been talking about this. It's a lot of moving parts, and a lot of people who have been working really, really hard.
How did you feel taking that final bow this season?
It was great. I was just glad no one fell down the stairs. You've got girls walking down the stairs in long dresses and high heels, and you don't really want them to hold on to the railing, but you can't say that because it's better than if they fall. But everything went so well, and I felt so proud of myself and my team.
At least you did show plenty of flats this season, as well.
I always like to have some kind of flat in the collection, because though it is a very wearable collection, I don't want to show everything how I would naturally wear it, because that would be boring. That's why we work with Joe McKenna, who is such a great stylist, so he can take it in a different collection. This is a dancing boot that we found and started using throughout the season. We found it quite inspiring and it took the collection somewhere else.
What is it like to have your family sit front row each season?
It's great that they can see what mummy does when she goes to work. I do work a lot, and you feel guilty when you're not there. It's great for them to see what I actually do. I'm always proud to have them there; their little faces when I get to the bottom of the staircase are so happy.
How was posing with them for the Vogue cover?
It was so great because what people will be quite surprised about is there is no hair and makeup for the kids; everyone was just genuinely having fun and enjoying it. Then they got given the water pistols, and everyone was spraying each other with water. I think a lot of people think that the kids spend an hour in hair and makeup, but it couldn't have been any further from the truth. I mean, they were virtually just picking their own clothes and given bikes to pose on, which they loved. The dog was there, and it was great. They had such a great day. We all did.
When you were looking back through the archives, were there any intense moments of nostalgia or anything that particularly struck you about how the collection has progressed?
Oh, yes. I mean, I started with 10 dresses in three fabrics. I've gone from that to an entire wardrobe that includes not just dresses but tailoring and knits and accessories. And it continues to grow each season. It's about working with my team and trying new techniques and developing new fabrics.
Do you have any regrets when looking through past collections?
Not regrets, but there have been seasons where I have thought that I should have probably just…I've always been honest, but what I love about this collection is that there is not one single piece that doesn't feel like it is part of me. It's easy to veer off when you feel the pressure of doing a show and you've got to do something that feels elevated, and sometimes that can take you somewhere else.
What is the biggest change you've seen in your approach to design?
I've just learned so much. I've surrounded myself with very smart people.
Do you remember how you felt before that first collection?
Not really any different to how I feel now. I still get excited, but nervous. I'm not any less nervous.