Victoria Beckham Now Reportedly Has 14 Engagement Rings
Posh and Becks are opposite of divorcing.
---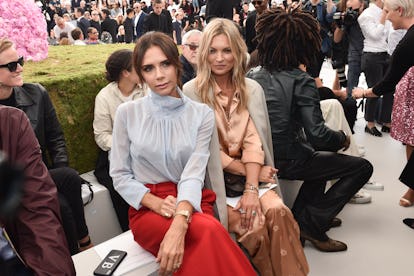 Photo by Dominique Charriau/WireImage
While fantasy novels and Tiffany's ads may stress the importance of the One Ring, Victoria Beckham prefers a collection of gems to suit practically every year of marriage. In fact, she's been spotted wearing 14 different rings on That Finger during her 18 years of marriage to David Beckham. Because love is forever, but fashion comes first.
The latest addition to the collection apparently made its debut at Paris Fashion Week, where Beckham sat with Kate Moss at the Dior Homme Menswear spring 2019 show, in red pants, a light blue top, and apparently a new ring on her finger. According to the Daily Mail, it's a "£120,000 square-cut yellow diamond set on a platinum pave band."
Per the same article, according to the Mail's jewelry expert Beckham's collection is now worth nearly nine million pounds, or just under 12 million American dollars. To be fair, this may in fact be David, whose net worth is a reported $450 million, sticking to the "three months' salary" rule. Though, back when they first got engaged in 1998, Victoria received a much more modest £65,000 marquis-cut diamond.
But this is the 21st century, and Victoria Beckham is a mogul (her own net worth has been estimated to be comparable to her husband's.) She buys a lot of those rings herself! According to a source, "[David] doesn't buy Victoria a ring every few years, but he's treated her to some of them," and Victoria pays for the rest.
There have been rumors recently that the couple is headed for divorce, but their representatives called the talk "laughable and embarrassing." A 14th wedding ring seems to suggest that there is no immediate plans for the Beckhams to split.
Related: Victoria and David Beckham Dismiss Divorce Rumors
John Legend, David Beckham, and More of the Most Social Media-Savvy Fathers on Instagram