Victoria Beckham Got a Quick Haircut in the Back of a Moving Car
True fashion icon behavior.
---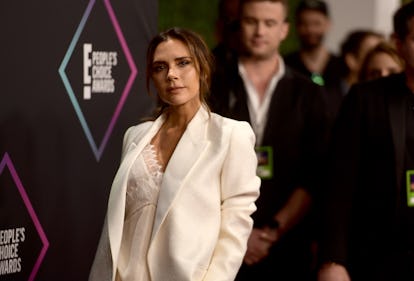 Matt Winkelmeyer/Getty Images
There's a reason Victoria Beckham was nominated to receive the inaugural Fashion Icon Award at the People's Choice Awards, and it's this: Not only did she arrive in a custom-made white tuxedo she had designed for herself for the occasion (a suit that, as she wrote on her Instagram Stories, will appear in her next pre-collection for her namesake brand), she also got a quick haircut in the car on the way to the event. A true icon, designing looks not even Meghan Markle would dare try.
"We are doing hair and makeup in the car," she says in the video she posted to her Instagram Stories. "A quick haircut. Why are we doing this, Ken?" she continues, addressing her hairstylist Ken Paves, who snips away at a few tendrils of hair around her face. "Was someone late today?" Paves looks up, wide-eyed. "Is that why we are literally getting ready in the car?"
In the next scene, Beckham receives a light makeup touch-up, courtesy of her makeup artist Wendy Rowe, in the back seat of the car. Again, "because Ken was late." ("We're driving around because we're early," Paves retorts.)
In addition to being the designer behind her fashion label, Beckham is, of course, best known as Posh Spice, one of the five Spice Girls (and the only one not about to embark on tour next summer), so she's kind of a style icon twice over. "So many years ago, I started with girl power," she said in her People's Choice Award acceptance speech Sunday night (doesn't she know the Spice Girls are all about "people power" now?), "and now that message is just as strong as ever, but now it's through the privilege of being able to empower women through my designs," according to People magazine. (She also managed to fit in a reference to the Spice Girls' hit song "Wannabe.")
But it's not just pop stardom and high-fashion cred—apparently, it's also her ability to carry off a backseat hair update. And this, my friends, is something that cannot be taught. A real icon makes it work, even if making it work is in the back of a moving vehicle.
Related: Why Meghan Markle Won't Wear Dresses by Her Friend Victoria Beckham