Victoria's Secret Pink Model Zuri Tibby Thinks Bras Should Look More Like Bathing Suits
The 21-year-old grew up by the beach, and knows exactly which sunglasses to wear for the perfect selfie.
---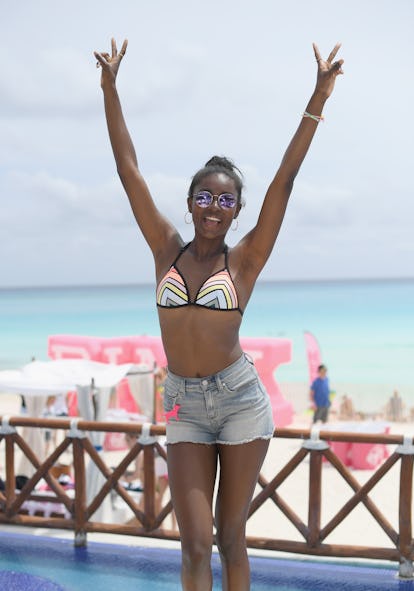 Dimitrios Kambouris/Getty Images
It's a given that bathing suits resemble bras in shape and size, and over the years have also come to feature the same lift and support technology, too. But for some reason, it's not as often that you see it the other way around with a bra that resembles a bathing suit. The Victoria's Secret Pink model Zuri Tibby is on to this idea, and thinks it's this year's summer trend.
Tibby, who is 21-years-old and signed with Victoria's Secret Pink last year, declared this while showing off the brand's new Date V wire bra at Milk Studios in New York City. Featuring a bright tropical print and a generous lace structure, Tibby does, in fact, say she would wear it out of the house—with nothing else over it.
How old are you and where are you from?
I'm 21-years-old and from West Palm Beach, Florida. I grew up like, five minutes from the water. My parents are both Jamaican.
What are some of your favorite beaches in Florida?
I like South Beach, but for a more chill beach, I'd go to Flag Pole Beach, which is in West Palm Beach. It's for families, not parties.
Are you a one-piece girl or a two-piece girl?
Definitely two-piece. The Victoria's Secret Pink Date V wire bra that I'm wearing actually comes in a swimsuit form—that's originally what inspired it. It's definitely a trend.
So it's a trend for your bra to be inspired by swimwear?
Yeah, I think so!
Hat or sunglasses?
I love aviators or cat-eye sunglasses. With aviators, you can get those reflective lenses, so that when you take a selfie, you can see the beach in them.
Wow, you've thought that through. Flip-flops? Yes or no?
I prefer a cool slide.
And jorts?
I like high-waisted denim, but vintage. Don't cut them yourself.
What do you like about the Date V wire bra?
It's great for summer because the racerback and V-cut plunge allow you to layer. And the prints are really bright and colorful.
Would you ever wear it without a shirt?
I think you could with high-waisted shorts. It'd be perfect.
Do you ever get nervous on set posing in your underwear?
At first, maybe, but listening to upbeat hip-hop helps.
What music are you listening to right now?
I love the new Drake album, More Life and my favorite song is "Get It Together." I work out to it, too.
What's your workout routine?
I like to do some cardio before weights, so running on the treadmill with incline off then on, then I'll get off and do squats, lunges, arms, pushups, and stuff like that.
Do you have any summer beauty essentials?
I really like Glossier's Invisible Sunscreen because it doesn't leave a white tan on your face. I also just keep my hair up most of the summer and use some coconut oil when I go to the beach, because the salt water can really dry your hair out.
Any summer vacation plans?
Not really. This is my first summer living in New York City, so maybe the Hamptons one weekend?
First summer in the city! What do you think so far?
It's so hot. And I'm from Florida.
What are some things people might not know about you from Instagram?
I love to cook and I have a dog named Migo, who's a Pomeranian Australian shepherd.
The Ultimate Guide to Summer's Best Swimsuits
Watch Jasmine Tookes Try On the $3 Million Victoria's Secret Fantasy Bra