Vox Lux Trailer: Natalie Portman is a Pop Star on the Verge of a Breakdown
She's a pop star on the verge of a breakdown.
---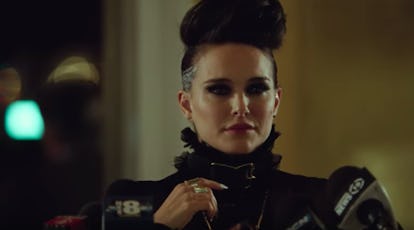 YouTube
The Oscars race for Best Supporting Actress just got a whole lot more competitive. That's because Natalie Portman's breathlessly unhinged performance as a pop star on the verge of a breakdown in the upcoming Vox Lux was just teased for everyone who wasn't on the festival circuit this year. Today brings the first official trailer for the upcoming stardom saga being helmed by Brady Corbet, and it is a lot to take in.
What you need to know before watching is that the 110-minute film is divided into two sections and Portman doesn't enter into the picture until the second half. The beginning follows the global star's teen years and rise, where she's played by The Killing of a Sacred Deer star Raffey Cassidy. Oh yeah, and Cassidy also plays Portman's daughter in the second half of the film. That doesn't begin to capture how much is going on in Vox Lux, though.
Per the description, "Vox Lux begins in 1999 when teenage sisters Celeste (Raffey Cassidy) and Eleanor (Stacy Martin) survive a seismic, violent tragedy. The sisters compose and perform a song about their experience, making something lovely and cathartic out of catastrophe — while also catapulting Celeste to stardom. By 2017, the now 31-year-old Celeste (Natalie Portman) is mother to a teenage daughter of her own and struggling to navigate a career fraught with scandals when another act of terrifying violence demands her attention." (Jude Law also stars in the film as Celeste's manager.)
Portman, who is being submitted for Oscar consideration as Best Supporting Actress, per IndieWire, is totally transformed in the film, complete with a Long Island accent. While she has declined to share which pop stars she based her character off and researched in the process, she appears to be one with an avant sensibility, given by her artistic makeup and attire.
The trailer opens with her mid-interview. When asked about her new album, she says, "This is a culmination of my life's work so far. I was under a lot of stress after my accident. But that's what the show is about: It's about rebirth."
Fast forward to the show: She walks to the stage in an ensemble consisting of a clock and black feathered wings. "So tell me, how many of you have cried yourselves to sleep at night?," she asks the audience. "People have been trying to take me down for years. But I'm on stage now."
"It's a weird world we live in," she later says at a press conference, "and the way I've chosen to live my life goes against some people's views." Ultimately, though, Portman's lifestyle appears to be her trying to live as, well, a human being. She snaps when a fan asks for a picture, prompting her daughter Cassidy to say, "Mom I'm worried about you." Then, during a monologue backstage, she screams, "I am sick of everybody treating me like I'm not a person."
Between Vox Lux and A Star Is Born, there is no shortage of meta movies this year on the toll that fame can take. Vox Lux hits theaters starting December 7.
Related: A Star Is Born vs. Vox Lux vs. Her Smell: Which Movie About a Flawed Diva Is for You?