Why Everyone Needs to Stop Talking About Anti-Aging, and Focus On Wellness
Two former La Prairie executives break down what's behind their new natural skincare line, Well Within.
---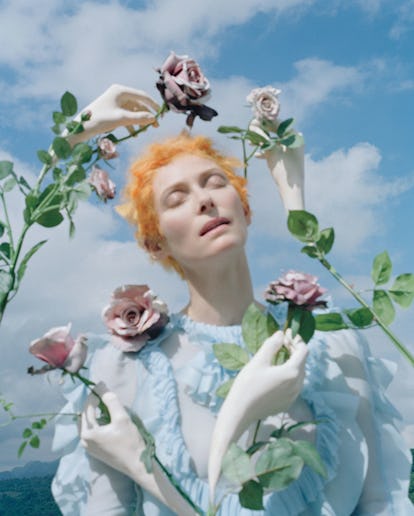 La Prairie is one of the biggest names in luxury skincare. So when two of its former staffers (with over 20 years at the brand) teamed up to launch a new wellness brand, fans were eager to hear more. 16 months ago, Renee Tavoularis and Lynne Florio launched Well Within, a line of seven plant-based products, including a makeup remover, cleanser, exfoliator, toner, day cream, night cream and eye cream. But don't think their overall mission is just about skincare: Well Within also includes a digital platform and health coaching, which caters to their customers' interest in wellness. (After all, beauty comes from within.) Here, Florio and Tavoularis explain why they launched their brand, how they handle being vegans, and why the term anti-aging is banned from the conversation.
Can you explain what holistic beauty is? Renee Tavoularis: We truly believe that the product that you put on your skin and what you're eating and your personal nutrition and lifestyle choices is really integral to your skin health and your overall wellness, and we want to be able to offer that service to people that feel that they need some more encouragement, more guidance to adopting a healthier lifestyle.
What did you both take away from your years at La Prairie in creating Well Within? Lynne Florio: We both have a very strong belief from La Prairie that the consumer is the center of the universe. So every decision that we make is around her and her experience of the product, from the product application to how she receives it in her shipping carton. One thing that we just learned as leaders and managers in our prior business is you have to listen. You listen to everybody. You listen to the consumer, you listen to the competition, you listen to your team, you listen to your partners, and as you're listening you need to be flexible to deal with as the world evolves and the leaves change. So I think those are basic principles that we took with us from La Prairie and pretty much applied to the standards of the line and the business.
After working for so many years at La Prairie, the bar was also very high for that kind of luxury skincare. The quality and performance of the product is critical so we used the highest concentration of ingredients we could use, picked the best packaging that we could have chosen to keep the product safe and uncontaminated. We felt that authenticity and uniqueness is important in this business and industry, and that we had to be true to everything that we said. In order to enter this world of natural, organic, and nontoxic, we had to differentiate ourselves with authentic, credible standards. Third party certifications are critical in a world where you can say anything about anything and never have to back it up, right?
We have three things I think that work in our favor. One, we develop the products in France, so our products are formulated against EU guidelines, which are more stringent than the American ones. Then the fact that we went for two different kinds of certifications that do two different things: Ecocert and EWG. Ecocert is about sustainability and natural, organic ingredients—they actually test the ingredients and prove what percentage the organic and natural ingredients are of your product. EWG analyzes the toxicity. They look at and ask, "Is the product safe?
Why did now feel like the right time to launch? Florio: Renee came from a family that was very entrepreneurial. They owned restaurants and separate businesses so that was in her blood to really think about not working for a corporation one day. So we always talked about being in our own business and wanting to do that.
And when this came together we said, okay, we would start with skincare, but we felt that that wasn't enough in this environment today. We felt that our platform had to be more holistic than just skincare. We were thinking about our own health and wellness, and felt that if we could do a business that incorporated those two things, a wellness journey for ourselves and our customers as well as a skincare line, that we would be offering our customers more than they could get in other places.
Tavoularis: When we left La Prairie, I became a vegan. And it's overwhelming! How many superfoods can I have? Do I put 15 things in my smoothie? Is whole grain good for you or bad for you? Is gluten good or is it not good? There's a lot of different dietary theories around a healthy, plant-based, whole food diet. So that, for me, was very confusing because I wasn't sure what was going to work for me, what was right, which theory should I follow…
My real understanding came from the Institute for Integrative Nutrition. I wanted to explore healthy ways of plant-based nutrition, ways that I can become a better version of myself, a healthier version of myself. I came to learn that first of all what health coaching is about an individual. It's not just eating kale. It's not just eat your broccoli every day. It's really understanding the interconnectedness of beauty, nutrition, and lifestyle, and embracing a more holistic approach. Through the philosophy of health coaching and a holistic approach of treating the individual and making it very individualized, we were able to bring forth a platform where people can find that kind of content as well as products that they can trust. Well Within is a place where no matter where you are on your wellness journey, whether you're just beginning, haven't started yet, or have been adopting healthy lifestyle practices for quite some time, we wanted to make people feel welcome, not overwhelmed, curate the best thinking out there by health coaches and other like-minded individuals.
Florio: Renee always says, we have the 80/20 rule. We can be healthy and clean and green and sustainable 80 percent of the time. I think that's what I learned from Renee the most is that you just have to pick and choose what you think is right for you and you can't follow everybody else's list. I think that was my biggest lesson, after years of trying to follow everybody else's diet or the newest trend to say no. I just have to work it out for myself. Now, I'm vegan by day and flexitarian by night. I have not made the complete switch. I have a son and a husband that have put up resistance. But we think it's a good place to be, for me. And that's what we want to offer, ways for people to work it out for themselves. Give them a good selection of material, make it not complicated and very simple and direct, and help them make the right choices for themselves.
Your focus isn't on anti-aging. Why is that? Florio: We not only came out of a brand but an industry that for the last twenty-something years really talked about anti-aging. When we sat down together and said, "where do we want to go and what language do we want to use" that was one of the words that was so bothersome to us. We both came to it at the same time. We're aging, we can't fight our aging. It's going to happen. It's inevitable. So to talk about it in the context of "anti" made no sense to us.
Everything that we want to talk about is more the positive spin of things than the negative spin of things, so the most positive way to deal with it would be not only to accept the fact that we're all aging, and not only to embrace it, but to even celebrate it. We think that should be the philosophy at any age, whether you're in your twenties or your thirties or your forties. And that process evolves over time as you evolve.
10 Wellness Must-Haves to Look and Feel Your Best This Summer
Watch: For Ellie Bamber, Bedtime Snacks Are an Important Part of Any Nightly Beauty Routine