Martin Margiela, Fashion's Most Elusive Icon, Comes Out of Hiding for a Rare Statement
The Belgian designer stepped away from the brand that he founded 10 years ago.
---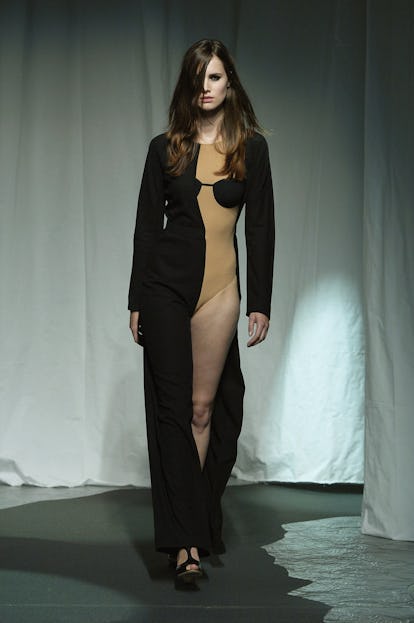 In 2009, Maison Martin Margiela officially announced what had been an open secret since the previous year: The label's eponymous founder and designer had decided to step away from his brand. Already an elusive personality who wouldn't even be photographed or take a bow after his shows, let alone give interviews about his work, Margiela was missed on the runway more than anything—"the designer's particular vision, which had focused on the authenticity of the vintage artisan fused with modern photo prints depicting wrinkles or handwork, was missing from recent shows," Suzy Menkes wrote in her report on the announcement. And since his departure, he has hardly made a public statement—not even for a retrospective at the Palais Galliera, in Paris, of which Margiela himself was the artistic director.
Until now. On Thursday, Margiela, the Royal Academy of Fine Arts graduate, was honored with the Belgian Fashion Award's Jury Prize for "his entire career and his obvious impact on the history of fashion, today's collections, and more than likely the ones to come." One wouldn't necessarily expect Margiela to break a decades-long silence for the occasion. One would be mistaken. Though the designer himself declined to make an appearance, he did send in a written statement, which was read at the ceremony.
"I am very touched and indeed honoured to receive this award, here in my native country. Especially because I stepped down from fashion already ten years ago," he wrote, recalling the first prize he ever won, also in Brussels: the second prize of the Golden Spindle cintesr, which was granted to him by the jury member Jean Paul Gaultier.
Margiela continued, describing why he had left his brand, and fashion in general: "I felt that I could not cope anymore with the worldwide increasing pressure and the overgrowing demands of trade," he wrote. "I also regretted the overdose of information carried by social media, destroying the 'thrill of wait' and cancelling every effect of surprise, which was so fundamental for me." He's far from the first designer to cite the fatigue associated with the relentless pace of the fashion industry; in a recent documentary on Alexander McQueen, the late designer also noted the pressure to be constantly producing.
But Margiela ended his note with relative optimism: "Today, I am happy to notice again a growing interest for creativity in fashion, by some upcoming designers," he wrote.
Related: Mystery Man Martin Margiela is Working on a Museum Retrospective