This Is Likely Why Taylor Swift Wasn't at Karlie Kloss's Wedding
The supermodel was secretly married on October 18.
---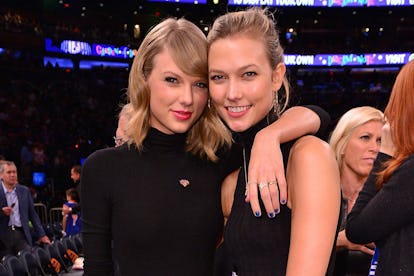 James Devaney/Getty Images
Karlie Kloss's wedding unfolded with little fanfare on Thursday, which might explain one glaring absence: Taylor Swift was apparently nowhere to be seen when Kloss and her longtime boyfriend, Joshua Kushner, said "I do" in upstate New York. While very few details surrounding the nuptials have been revealed, we do know that Swift was not in attendance because of her Instagram Stories. On the same day, the singer revealed in a post that she had landed in Perth, Australia, for the start of the Aussie stretch of her Reputation world tour.
Now, unless Swift bought herself one of Elon Musk's cross-continental rockets, which really don't even exist yet, getting from New York to Australia in that small window of time would be physically impossible. After enjoying a very public friendship for many years, Swift and Kloss have not often been seen together of late, leading to speculation that these two are no longer close.
Kloss did her best to quell those rumors in a recent episode of Vogue's 73 Questions, when she was asked if she and Swift are still friends. After revealing that Jennifer Lawrence also wants answers, she said, "Jen, don't worry, Taylor and I are still really good friends." We're inclined to believe her, not only because Kloss was spotted dancing enthusiastically at a Swift tour stop in Nashville in August, but also because her wedding seems to have been an intimate affair. In fact, the only details that emerged from the proceedings came via an Instagram from Kloss herself.
In it, she's seen wearing a custom Dior gown, alongside her new husband. A source told People that "the wedding was intimate and moving," and that "the couple was beaming with happiness." According to the report, they plan on hosting a larger affair for friends and family in the spring.