Will Smith Just Realized He and Jada Pinkett Smith Have Been Together for "More Than Half Our Lives"
He shared the revelation on Instagram.
---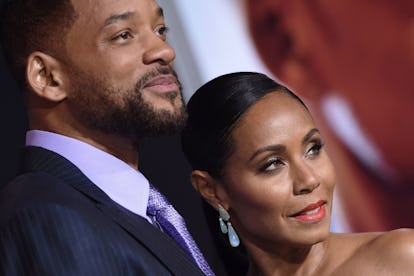 Axelle/Bauer-Griffin/Getty Images
Will Smith and Jada Pinkett Smith's relationship has been in the public eye for so long that sometimes fans think they're know everything there is to know, but as it turns even the couple is having realizations about their marriage all the time. On Wednesday, Will took to Insta to share one such revelation he'd had about their relationship. "I just realized… This year we've been together more than HALF OUR LIVES!" he wrote to his wife of 21 years, alongside a selfie of the two of them snuggled up.
The couple began dating in 1995 and married in 1997, putting their total time as a couple at 23 years—which, yes, is exactly half of 46-year-old Jada's time on earth, though Will, it's worth noting, is actually 49. His halfway point, then, will happen in three years, when he's 52 and has been with Pinkett Smith for an impressive 26 years.
Pinkett Smith replied to her husband's sentimental post with a sweet note of her own. "How did we switch roles today??? You write something sentimental and I'm trying to be funny on my Insta LOL," the Girls Trip star wrote in the comments section. "But can u believe it? A whole lotta growth and miracles along the way. I'm proud of us."
Cute Instagram tributes aren't the only things that have kept Will and Jada's marriage strong after more than two decades together. "Really, at the end of the day, it's just not quitting," Smith revealed in 2015, shortly before he and Jada celebrated 20 years together. "You can't expect it to be easy. It's like our marriage was the most difficult, grueling, excruciating thing that we have ever taken on in our lives. And, you know, we're just not quitters."
He added, "If there is a secret, I would say it's that we never went into working in our relationship. We only ever worked on ourselves individually, and then presented ourselves to one another better than we were previously." And there you have it, folks: the secret to everlasting love.
Related: Why Will Smith and Jada Pinkett Smith Don't Refer to Themselves as "Married" Anymore