Why Will Smith and Jada Pinkett Smith Don't Refer to Themselves as "Married" Anymore
It's just so much more than that!
---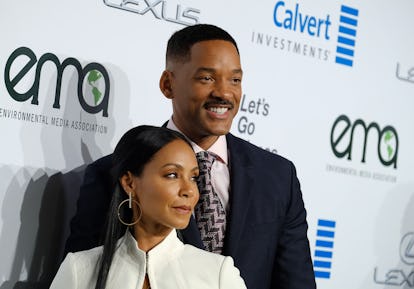 CHRIS DELMAS/Getty Images
Think about this for a second: Jada Pinkett Smith and Will Smith got married in 1997. They have been together for more than 20 years. In Hollywood time, that's basically already a lifetime; their kids, Willow and Jaden, are 17 and 19, respectively—practically adults themselves. They don't give each other gifts at holidays anymore; instead, they make up their own holidays. They've transcended rumors of cheating and divorce. So, all things considered, one can forgive Will Smith for eschewing the adjective "married" in favor of "life partner," as he explained on the Tidal podcast "Rap Radar" this week.
"We don't even say we're married anymore," Smith told "Rap Radar," describing his relationship with his wife. "We refer to ourselves as life partners, where you get into that space where you realize you are literally with somebody for the rest of your life." Nothing she can do could change that! There's no deal-breakers! Must be nice. It is nice, according to Smith: "This, right now, is the best time in my life, ever," he said. "I've never been happier."
The feeling is mutual (as it's got to be, to endure 20 years): "We are family. That's never going down, ever," Pinkett Smith said on "Sway in the Morning." (So much never, ever, forever.) "Take out all that whole marriage, relationship crap—at the end of the day, Will and I are family. I'm going to hold him down," she added.
In the middle of a particularly devastating run of celebrity breakups, Jada Pinkett Smith and Will Smith are an inspiration to us all.
Related: The Craziest Things Jada Pinkett Smith Has Revealed About Her Family on Her Facebook Talk Show