Will Smith as the Genie in Aladdin Is Terrifying, but Twitter's Reactions Are Delightful
Twitter can't handle the Genie.
---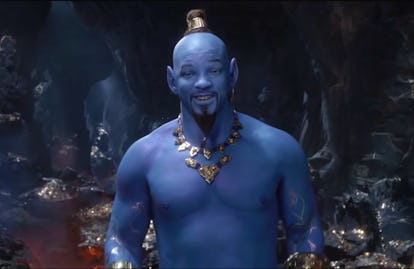 Disney
The first trailer for Disney's live-action remake of the 1992 animated film Aladdin, directed by Guy Ritchie, prompted quite a few questions upon its release in December—many of which expressed concern about the fact that Will Smith's version of the Genie matched the goatee and high ponytail of his predecessor, memorably voiced by Robin Williams, but noticeably lacked the character's signature cerulean skin. At the time, Ritchie and Smith promised that blue skin was indeed on its way for Smith, as the actor confirmed on Instagram via a caption that read, "Check Me Rockin' the Top Knot Ponytail Vibes … and yes, I'm gonna be BLUE! 🙂 This is how the Genie is in Human / Disguise Form."
And now, in a true demonstration of the saying "be careful what you wish for," Disney has delivered on that promise. On Sunday, in what proved to be quite the break from the Grammy Awards, a follow-up trailer aired that not only proved that Smith wasn't lying when he insisted his character would "stand out as unique even in the Disney world," but also immediately erased any desire to see what that would look like. To put it lightly, it's nothing like the "muscular 1970s dad" with a "hip-hop" flavor that the 50-year-old actor had previously teased. (Before scrolling: Please know that you're not alone if you scream.)
The best that can be said for Disney here is that it seems like the film's previous, much darker controversies have now faded from the public's memory. Who knew a little blue CGI face paint is all you need to put to rest all the outrage over their admitting to struggling to find a competent actor of Middle Eastern or Indian descent to play the film's title role, as well as admitting to darkening the skin of white actors with makeup so that they would "blend in" with other cast members? For the time being, anyway, Twitter users invested in the film definitely seem to have moved on.
To be fair, while Smith might be the muscliest, he isn't the first actor to channel a Smurf. (Even supermodels have joined in on the trend, à la Gigi Hadid.) Many of those reacting to his shocking new look have made comparisons to Tobias F¨ünke in Arrested Development, but The New York Times's Kyle Buchanan also made quite the contribution on Sunday, when he tweeted, "Honestly the Will Smith genie feels like a spoiler for BIRD BOX because I finally understand what image would make them so fascinated but also want to kill themselves."
We can only hope that this is the film's last controversy before its release, on May 24, 2019.
Related: Why Will Smith and Jada Pinkett Smith No Longer Refer to Themselves as "Married"