Winnie Harlow Has Been Practicing Her Victoria's Secret Fashion Show Poses in the Mirror
The first-time Angel is nervous about her debut.
---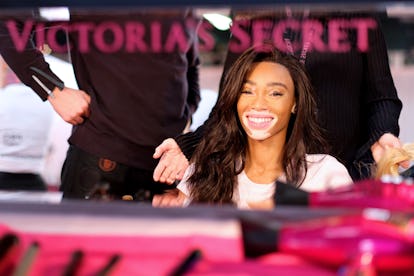 Dimitrios Kambouris
Along with all of the regular Angels hitting the runway at the Victoria's Secret Fashion Show—Behati Prinsloo, Adriana Lima, Candice Swanepoel, and Elsa Hosk among them—there will be a slew of newcomers getting their wings for the first time. And joining in the ranks for this first time this year is fashion favorite Winnie Harlow, who first announced her casting back in September with an emotional Instagram post overflowing with her excitement. On the day of the show, that excitement had only escalated, as the model took her seat amongst models old and new backstage at the show. Here, Harlow talks about first-timer nerves, and what she'll be doing immediately after the show.
Who was the first person you told when you found out you were cast in the show?
I was luckily with my best friend, so I just cried on her for a bit. As soon as I could talk through my sobs, I was like, "I need to call my mom." She was like, "God bless." We had been on the phone the night before and were praying for 15 minutes. She was very excited.
How many times have you cried in the last 24 hours?
Oh my gosh, too many to count. Yesterday we had rehearsals, and I swear there wasn't one girl that wasn't crying.
Is this waterproof mascara you're putting on?
Oh, wow, is this waterproof? Let's hope so.
What are you most excited about?
I'm most excited to walk the runway for the first time. I have two outfits and I'm really, really excited about that. I can't believe that I got the honor of two outfits in my first show. I'm wearing some really fly stuff in my favorite color, which is pink.
What are you most nervous about?
I'm also most nervous about my first time on the runway.
Who has given you the best advice?
Everyone's advice has been amazing. Sophia [Neophitou-Apostolou, the show's casting director] gave me a lot of advice about my poses at the end, so I'm going to take heed to those and hopefully make her proud.
How much have you been practicing those poses?
Oh, every single fitting. In all the mirrors, I've been doing my walk in the shoes. It's really the shoes, and just making sure that you are comfortable in them, and then everything is perfect.
What are your post-show plans?
Having a donut. Krispy Kreme. Original.
Related: Bella Hadid Says She's Sister Gigi's "Stage Mom" At the 2018 Victoria's Secret Fashion Show