VICTORIA'S SECRET FASHION SHOW
Bella Hadid Says She's Sister Gigi's "Stage Mom" at the 2018 Victoria's Secret Fashion Show
"I'm, like, filming her when she's doing her fittings."
---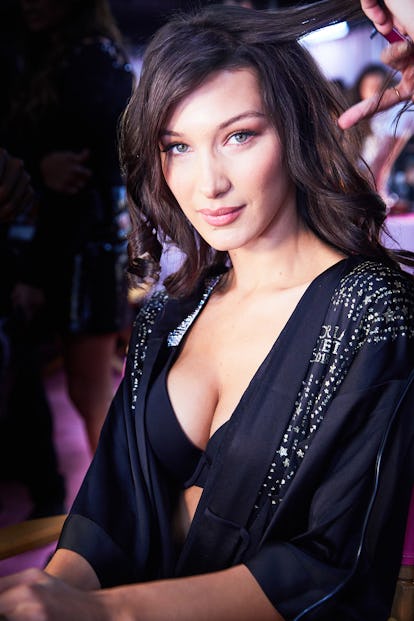 AMBRA VERNUCCIO
Two years ago, Bella Hadid and Gigi Hadid made history as the first sisters to ever walk the Victoria's Secret Fashion Show together. Tonight, they are going to do it all over again, and no one is more excited than Bella herself. Sitting backstage at the show's venue while getting her hair sculpted into perfect angel waves, the model was all smiles as she prepared herself for the night ahead. While her big sister Gigi's excitement had manifested in the form of "ugly crying" as Bella walked during rehearsals the previous day, Bella was going the Amy Poehler in Mean Girls route, capturing her sister on her iPhone at every possible moment. Here, the model talks about walking in her third show, her post-show pasta plans, and how crystals get her ready for the runway.
How does it feel going into your third Victoria's Secret Fashion Show, compared to your first?
You know what, I think it gets better every year. I was not feeling so well a few years ago, when I first started, and now I'm excited to finally be myself and feel my own energy. It's a beautiful show, and we're in New York, and my family is here, and my loved ones are here. I'm just so excited. It's going to be amazing.
Do you try to find them in the front row when you're walking the runway?
It's so funny because when I walk in a regular show, I don't see anyone around me. But what is so fun about this show is you get to look and see where everybody is. I'm nervous. I don't know if I should ask where they are first, or just look and find them. But then what if I don't find them? It's a lot of things.
How does it feel to have Gigi back in the show with you?
Oh, my God, it's amazing. I'm so happy, and I'm so proud of her. It makes me emotional. I'm literally a stage mom, like, filming her when she's doing her fittings. I think I'm more excited about us being together again. It's just going to be great.
Do you still get nervous?
Oh, yeah. Yesterday, I thought I was so calm, and was like, I'm good. I didn't feel the butterflies. But then, today, I woke up and was like, Oh, there they are. Found them.
What do you do to get over the nerves?
Some very, very nice lady just gave me jasmine lotion. But I have my crystals with me, and I usually have a playlist that I listen to, but it's been a little hectic this morning. I probably will go meditate in a corner before.
Are you excited to celebrate after the show?
Oh, yeah. We already have all of the plans for food. The list includes pasta from Carbone and definitely a big glass of red wine. I'm just excited to dance with my girlfriends.
Related: Gigi Hadid Has to Fight Back Tears While Walking in Victoria's Secret Fashion Show