London Is Quickly Catching Up with Los Angeles When It Comes to Wellness, Thanks to Yeotown
Meet the duo responsible.
---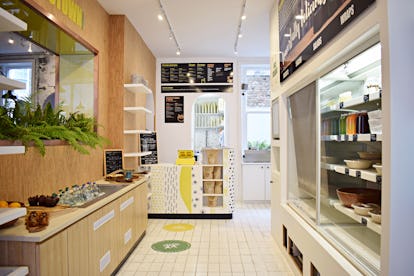 Yeotown, Mercedes and Simon Sieff's rustic-chic eco-conscious compound nestled in the picturesque hills of North Devon, England, is one of my favorite wellness retreats in the whole, wide world. Guests hike across achingly beautiful moors and along the sides of breathtaking cliffs, practice yoga, meditate and train with top-notch instructors, and at mealtimes, get to indulge in some of the yummiest food, juices and smoothies imaginable. I still salivate when I think of chef Julia's vegetarian version of Shepherd's pie, and if I could have legally smuggled her and her magic book of recipes back home to New York in my suitcase, I would have. Apparently, I'm not the only one. In response to popular demand, the Sieffs decided to bring a bit of Yeotown to London town in the form of Yeotown Kitchen, a health-minded cafe and juice bar located in Marylebone, on hip Chiltern Street. I asked Mercedes Sieff to give me the scoop, just ahead of opening day.
So, tell me a little bit about Yeotown Kitchen.
We wanted to bring both the cuisine and ethos of our Yeotox programme in Devon to serenity-seeking, health-conscious Londoners. The Kitchen will have a nutritious yet delicious selection of wholesome, mindfully-sourced foods and energy-filled snacks, in addition to organic, freshly-pressed juices, ice creams and a super-smoothie bar serving up signature and customised concoctions. We tried to make the interior inviting and uplifting, and hope it will serve as a kind of sanctuary from the demands of city life. In addition to healthy nibbles, the two-level space has a "meditation station" with mood-boosting meditation pods where customers can relax and recharge with one of Yeotown's five-minute guided meditations.
London seems to be increasingly health and wellness-minded. How does it differ from Los Angeles and New York on the wellness front?
I think the great thing about London is that despite it being perhaps a bit behind other global cities in terms of the number of health and wellbeing offerings, it is keen to fast catch up. Better still is that's what is being presented is really reflective of the city and city living, which will hopefully make it more accessible and interesting to more people, many of whom are perhaps just now beginning to be interested in their health and wellbeing.
The Meditation Station is a great idea. Can you explain what it is, and how you think your customers will use it?
I felt it was important that we expanded the conversation around health by making sure that Yeotown Kitchen was a true reflection of Yeotown, and went beyond just serving chia pudding and green juices! With mental health issues and the stress of city living being at all-time highs, I really wanted the space to be a respite from the chaos of the city. I thought it would be great to have some sort of pod that people could pop into during a stressful day in order to encourage them to give their minds a healthy break. The guided meditations are five to six minutes long and have different themes depending on what you might need that day– a sort of 'mindfulness on-the-go' kind of thing! And it's not just for our customers. I also encourage my staff to pop into a pod before or after their shift to support them through their day and experience a few moments of mindfulness for optimum mental health.
What kinds of goodies will the Kitchen serve?
Oh, all kinds of goodies! We aren't calling ourselves vegan or vegetarian or 'clean eating' or any such thing, as we don't want to pigeonhole ourselves. But at the heart of YK is a wholesome, nutrient-dense, mostly organic menu, free from refined sugars, dairy and meat. Our menu is positive psychology-inspired (based on my studies) and the dishes are named after various character strengths as a reminder to focus on your strengths, not on what's going wrong throughout your day. Things like the Grace Orange Blossom Smoothie, Wisdom Pittaya, Bounce Back Vegan Burger, Empathy Hot Smoked Salmon Wrap, Compassion Matcha Pancakes and the Love & Be Loved dessert tray will feature on the menu.
I absolutely adore Yeotown, your retreat in Devon. Didn't you recently expand the premises?
Yeotown has really grown from strength to strength (touch wood!) since we opened. We are now open every week, and most weeks we are pretty much at capacity. We actually have a lot more international clients now, as well, which is really nice. This year some members of the Dubai Royal family joined us, and since then we have had a lot of clients from the Middle East come to experience the program, which is really fun as they tell us it is so different to anything they have ever experienced in their region. We have five beautiful new suites we call eco-lodges and we added a fourth treatment room. We also have a new outdoor gym, a lovely hot tub in the fields and a wonderful vegetable garden.
Describe a typical day at Yeotown these days.
A typical day always involves one big outing be it a substantial coastal hike or cycle ride. There is still yoga to top and tail the day, with the afternoon yoga session being a meditation of some sort. Thanks to the new gym, the afternoons always comprise of some sort of upper-body or core session, like boxing or Pilates. Depending on the day, there is a cooking lesson, nutritional chat or some sort of sit-down discussion. And massages and hot tub/sauna, of course, to finish off the day. Yeotown has actually changed quite a bit since you've been. Our breakfast offerings have expanded beyond the 'power smoothie' to include a selection of dishes, and we now have things like archery, self-defense, boxing, surfing and gong meditation on the schedule.
How does the new space reflect the Devon retreat?
When Yeotown opened six years ago we were really clear that we wanted to be about total mind and body health, and not just focus on weight loss or diet food. So it was really important to us when we expanded into London that the Yeotown ethos– the importance of cultivating health in mind and body in equal measure– was really present, hence the Meditation Station. On the food front, similar to Yeotown, the London outpost is a 'scratch kitchen,' meaning that everything we serve is made from scratch. Be it Julia's much sought after homemade hot sauce, seeded crackers or wasabi dips, or our organic fresh-pressed juices, it's all are made on site in the kitchen. This is just like we do it in Devon.
Tell me about Yeotox in a Box.
Yeotox in a Box will launch in autumn, once Yeotown Kitchen is running smoothly. It is essentially a five-day home delivery service based on the Yeotox program, but again it goes beyond just food in a box. Full details to be announced in October!
What made you decide to go into the restaurant business?
People have been asking us for a while to open something in London, but we were never going to do a retreat like in Devon for obvious reasons. One of the biggest things our guests consistently told us was they wished they could carry on eating the same way they had experienced at Yeotown once they went home, but felt there was a lack of places to go that offered similar food and ethos. Simon and I felt the same way, as we live half the week in London and half in Devon, so we felt it would be great to create an inspiring space that brought the Yeotown lifestyle to London.
Why did you choose Chiltern Street?
It sort of chose us in a way as we were looking for somewhere central in London that could serve for both residential and offices. We always loved Chiltern Street, but spaces come up rarely, as it's not a very long street and the leases are quite long. As luck would have it, at the same time we were looking one of our friends in property said they were aware of a space coming up on Chiltern street where the landlords wanted expressly some sort of healthy concept café in the space. We felt it was obviously meant to be as we had been looking for a while and hadn't found the right space for want we wanted to offer. Chiltern street is such a great street and an ideal location for our first site, so we pitched for the space against a few other brands and got it!
You and Simon are so busy, obviously, between Yeotown, your yoga classes and your kids. How do you fit it all in, and manage to still be mindful and calm?!
Well for one, I am writing this whilst on holiday in Bali for the last month so these more intensive breaks certainly help us stay mindful and calm! I do still teach classes and workshops in London, which is a real passion and love of mine, and my vocation long before I opened Yeotown. Luckily, Simon and I tag team a lot so we can get more done business wise and still manage great quality time with the kids to balance things out.
What's NEXT?!
Oh gosh, well, we have a few things in the pipeline but just let me get Yeotown Kitchen launched, and then catch my breath!
Related: Weight Loss at Yeotown, a Detox Camp on the English Countryside
It's Time for a Spa-Cation
Watch: Bella Hadid, a Bubble Bath, and Jenga: What More Could You Want?