Zac Efron and Alexandra Daddario Are Reportedly Dating "On and Off"
Nobody saw this one coming.
---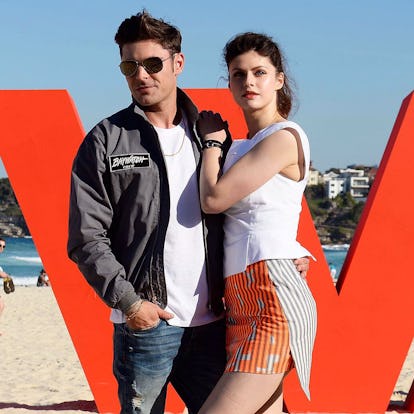 Have you already forgotten that Zac Efron and Alexandra Daddario costarred in last summer's action-comedy reboot of Baywatch, with Dwayne "The Rock" Johnson? Well, they haven't. After nearly a year of dating rumors—beginning with the court-mandated are-they-or-aren't-they of the film's press tour—an anonymous source told People this week that the two have been involved "on and off since their time working together on the movie last year," clarifying that they are "not officially dating." Keeping it casual, we see.
The halfhearted confirmation comes just a couple days after the two were spotted shopping for dog toys together, a totally normal platonic activity often shared between friends. They were photographed at Tailwaggers in Los Feliz, California, where TMZ reported Efron selected a new dog crate for his pit bull mix while Daddario acquired "some goodies" for her dog, Levon. "Nothing's been confirmed," TMZ wrote at the time. "What is confirmed—their doggies are adorable."
The two actors had spent many months exchanging Instagram likes and comments—again, a totally normal platonic activity often shared between friends—and occasionally appearing on each other's feeds. In September, Efron posted a photo of his costar curled up in a hotel bed. For her birthday earlier this month, he posted an image of the two of them, in which she is maybe sitting on his lap and his arms are definitely around her waist. "Happy birthday to one of the most real, down to [earth emoji], stunning, intelligent, creative, loving, and most rare Pokémon ever created," he captioned the post. Does that count as confirmation enough?
Still, Daddario vehemently denied the rumors while promoting Baywatch last spring: "We work together closely; he's my love interest in the film. I understand why people would go crazy over something like that, but Zac and I are very good friends," she told E! News. And maybe it was true at the time! But it's one of Newton's laws of physics: Costars rumored to be dating will always end up dating.
Related: Zac Efron Didn't Do Method Acting to Become Ted Bundy in Extremely Wicked, Shockingly Evil and Vile
Zac Efron's Body Transformation From Lanky Teen Heartthrob to Baywatch Stud
In A Hawaiian inspired button-down with cuffed sleeves, the lanky young actor appeared on the red carpet of the WB Networks' 2004 All Star summer Party.

Jean-Paul Aussenard
A year laster and still without any noticeable muscle definition, Zac sported another button down with cuffed sleeves at the breakfast with the cast and crew of 'High School Musical'.

Michael Tran Archive
The teenage heart throb flexed his muscles on the red carpet at the premiere of 'High School Musical 2'.

Jason Merritt
At the 2007 Madrid ' Hairspray' Photocall, we begin to see the peak of slight muscle definition in what later becomes Zac's infamous athletic body.

Lalo Yasky
Still with his muscles on the lean side, Zac rocked a fitted mode-sleeve button down and vest to the 2008 Teen Choice Awards.

K Mazur/TCA 2008
Tanned and visibly chiseled a year later at the Teen Choice Awards, Zac opted for his go-to classic button down with cuffed sleeves look.

Jeffrey Mayer
While visiting Maui in June 2010, the young stud showed off his hot physique after taking a dip.

Splash News Online
Zac soaked up the sun in Maui in June 2010 – shirtless of course.

Splash News Online
In 2011, Zac modestly showed off his biceps in a simple black tee while sitting court side at a Lakers game.

Noel Vasquez
Zac relaxed to music shirtless at his Sydney hotel in April 2012.

INFphoto.com
While filming his 2014's 'Bad Neighbors', the actor frequently showed off his incredibly buff body on and off the big screen.

GONZALO/Bauer-Griffin
With the star being in the best shape then ever before, he couldn't resist showing off his chiseled abs and biceps on the 2014 MTV Movie Awards stage.

Frederick M. Brown
While filming 'We are your friends', Zac showed off his sculpted bod again while running on the beach.

TSM/Bauer-Griffin
Acting out a scene from his new film 'Bad Neighbors 2' at the 2015 MTV Movie Awards, the stud shows off his hot bod once again under a green fatigue jacket.

Paul Archuleta
Zac was spotted walking the streets of Los Angeles last year flexing his muscles without even trying.

RB/Bauer-Griffin
While filming his newest movie 'Baywatch' Zac shows off all of his hard training work by shooting shirtless scenes showing of his incredibly ripped bod.

© 2016 FameFlynet, Inc – Beverly Hills, CA, U.S.A.