JETSETTER'S GUIDE TO SUMMER
Zac Posen: There's No Such Thing as Traveling With Too Much Cashmere
The designer and jetsetter never flies without his cashmere socks, sweater, and blanket.
---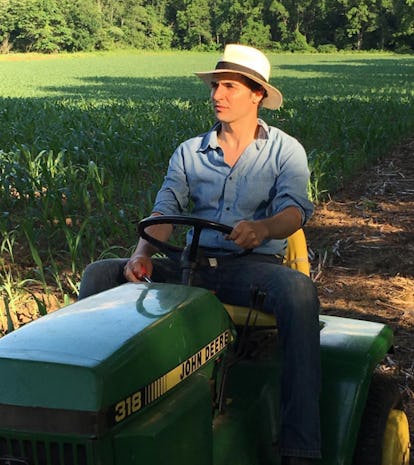 Zac Posen has his travel routine down to a science. Take a cue from the designer, who handles his namesake label as well as Brooks Brothers, in addition to his gig as a judge on Project Runway—you can't have too much cashmere when it comes to travel. Forget about those cheap socks they give you on the plane—bringing your own cashmere socks is total game changer, especially for a long haul overnight flight. And he always brings his own blanket (cashmere, of course), which really ups the ante in comparison to the paper-thin freebies in an ice-cold cabin. Here, Posen dispenses some more of his expert travel knowledge.
Go-to travel outfit? My Brooks Brothers pajamas and a cashmere sweater. I always wear a suit but change into pajamas when I travel overnight.
Best travel shoe? My boots and Venetian slippers for the plane.
Best freebie you've stolen off a plane? Got a set of silverware from the Concorde that I cherish.
Best or worst person you have ever been seated next to on a plane? Best: Jane Rosenthal. It was LAX-Kennedy flight on a Sunday morning before the Oscars and she has become a great friend since then.
What's your summer vacation destination? Unfortunately, I rarely take summer vacation since I film "Project Runway" in June and July and work on the collections over the summer so I am more into weekends away in Bridgehampton or Bucks County in Pennsylvania.
Best beauty products for travel? An SK-II mask.
Name five essential pieces of clothing/accessories you can't travel without: My big cashmere blanket,a comfortable Brooks Brothers cotton shirt, Brooks Brothers pajamas, Brooks Brothers cashmere sweater, cashmere socks, and a silk scarf for the pillow.
What's a big packing mistake to avoid? Not planning outfits so you end up over packing. Pre-planning is key especially when you have to travel for business.
Best souvenir you have ever picked up on a trip? Locally relevant things. For example, in Japan, I bring home lacquer boxes or pottery. In France, the candles from Nicolai. In London, the teas, Smythson stationery, and Phillips SJ jewelry. Also, artisanal crafts and tapestries from any country I visit.
Favorite airport lounge or restaurant? My Delta family always take great care of me wherever I go.
Airline with the best or worst food? Cathay Pacific has the best food on the Hong Kong to New York route.
What's your favorite hotel in the world? The Claridge's in London because it feels like a second home.
Most luxurious hotel bathroom you've ever seen? Soho House Berlin.
Name something that always saves you when you are traveling…. I always carry a big Shinola blanket that was given to me by my good friend Vanina Sorrenti.
Favorite piece of travel advice you have ever received? Go see and experience the culture. I travel a lot for work and to pretty spectacular places, so I always need to escape at some point to go to a museum at least once or see the city landmarks.
An Intimate Moment with Ciara, Before Her Wedding to Russell Wilson