Bangs, Bobs, and Bounce: 8 Celebrity Hairstylists on How to Wear 2023's Top Cuts
This year's biggest hair trends are rooted in the 1970s and '90s, and feature a new take on the classic French bob.
---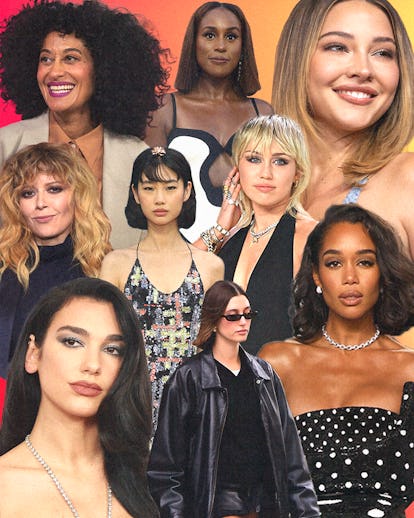 Photographs by Getty; collage by Ashley Peña
We may receive a portion of sales if you purchase a product through a link in this article.
We're just two months into 2023, and already a slate of distinct hair trends have emerged. Celebrities like Hailey Bieber, Zendaya, and Emily Ratajkowski are experimenting with new colors and cuts—and when we say cuts, we mean cutting it all off. Riffs on bobs and mullets have abounded on red carpets, runways, and in street style snaps alike. No matter how comfortable you are with your current hairstyle, it might behoove you to live a little: try rocking a sexy shag cut or take off a few inches to sport a classic but forever fierce blunt bob. "People are experimenting with their hair a lot more since coming back into the real world," notes London-based colorist Nicola Clarke, whose client list includes Cate Blanchett, Madonna, and Dua Lipa. Los Angeles-based hair virtuoso Adam Campbell, (the longtime stylist of Angelina Jolie, Natalie Portman, and Liv Tyler) agrees, adding that "shag hair has definitely come back strong—especially longer hair shags this year. They will be emblematic of the '70s Stevie Nicks, Farrah Fawcett, and current Kate Moss."
Whatever hair journey you chose to embark on, we've consulted with the best of the best—the hair illuminati, if you will—hairstylists and colorists. They've predicted the trends that'll be everywhere this year—and how you can use their all-time favorite tools and products to get in on the look.
Garren
Blunt, Fringe Cuts
"For a new look, first, CUT YOUR HAIR! This extra-long hair on all the celebrities is making me crazy. They all look the same," elite fashion hairstylist Garren tells W. "Blunt cuts are coming back—just above the shoulders, and side-parted. I suggest you try a strong fringe to change it up as well, it's quite sexy. Another great look is a natural parasol shape. It's super cool."
"It's imperative when working on my clients or any personalities to take into consideration two important elements: hair health and their personal style," he adds. "I work to combine healthy hair and scalp and a perfected haircut to strengthen their hair—which, in turn, gives my clients a style that separates them from their friends. I always suggest to my clients some serum for the scalp. My favorite is R+Co's Bleu F-Layer leave-in conditioner, which heals the cuticle layer, slips through the hair, and protects strands when using other styling products and heat tools on your hair."
Nicola Clarke
French-Girl Bobs Rule
"In terms of color, we are seeing a more liquid brunettes," Clarke says of the hair trends she's already seeing in the beauty space. "Think super glossy and healthy, as we love Ali MacGraw and use that as an inspiration. The blondes we've been loving are a nod to the '90s—think of Gwyneth Paltrow, Carolyn Bessette. A lot of my clients are doing the complete opposite to the norm: Haley Bennett has gone from blonde to red, back to blonde, and now brunette. Madonna, from blonde to pink, and then to copper. Ellie Bamber, from red to blonde, then back to a beautiful copper. So as much as we love a trend, what is fun for us is that women are being braver with their hair color choices—which also means they want to explore new haircuts. We're seeing lots of beautiful bobs: Skater bobs, French-girl bobs; more people are wanting to cut their hair again, hallelujah!"
"In terms of hair care, there are so many good additives that have hit the market over the past five years, and us colorists love them," she adds. "I love Virtue Colorkick and I use it in all my color formulas—especially bleaches—because it helps maintain the hue and strengthens the hair. Virtue's restorative mask is an absolute must—it works in just three minutes, but if you have the time, then deep condition for 20 minutes. I recommend combing the mask through, for extra silky hair."
Matt Rez
Champagne Blondes With Hints of Rose—But Do It Right.
Over the past five years, Matt Rez has become the king of color, creating looks for Hailey Bieber, Florence Pugh, Kaia Gerber, Kendall Jenner and Adele. His forecast for color trends this year is all about the complimentary contrasts that brunette-blondes, or "Brondes" as he likes to call them, can wear—as well as an in-demand trend for his signature Champagne blondes. "In addition to deeper browns, I predict that Champagne blondes are going to be super-hot this year," he says. "It's more golden-toned hues with a slight kiss of rose, again, not a huge makeout session with rose. Please tell your colorist not to mistake Champagne hues for rose gold; hink a glass of Champagne and not rosé. If it looks pink, you missed this year's trend assignment. It has to be ever so slight."
"This color trend can work on anyone, as it has a neutral feel to it with the perfect balance of warm tones and cool reflect," he says. "How light or dark you go depends on your eye color and complexion. I always say, the level of the collective hair color should be based on how dark or light your eyes are, and the tone should be complementary to skin undertone. Brown-colored eyes look best with brunette silhouettes. Hazel and green eyes can go in the 'bronde' world of hair color. Lighter-green and blue eyes look great with lighter, blonder levels of color. Tone wise, the warmer skin undertones look great with golden-toned hair colors and cooler skin undertones look best with cooler-tone hair. Neutral skin undertones can pull off either."
"You can get this perfect marriage of tone and reflect with Redken's Shades EQ Hair Gloss—it's made for this year's trend. This look can be achieved by a demi-permanent gloss that goes over pre-lightened highlighted hair done by a professional—do not attempt to get this hue using a permanent hair color! Lifting your entire base color will expose red and orange undertones that will kill this vibe."
"For the brunettes who want to join the Champagne train, add ribbons of dark blonde, leaving enough depth for the collective color to read brunette. Brondes: I say get a partial-full highlight so it's 50/50 ratio of light to dark, and lift to a medium-blonde color to be toned with Champagne gloss. Blondes, get a full highlight before toning with Champagne. If you don't want damage, then just stay a virgin and be boring."
Ted Gibson
Shorter Layers and Straighter Texture à la Joan Jett
"If you're not wanting to go out and have sex after your haircut, I suggest you get a new hairdresser," Ted Gibson tells me matter of factly over the phone. The hairstylist known for his $2400 cuts works with talents such as Tessa Thompson, Natasha Lyonne, Lily Collins, and Madelyn Cline. Gibson envisions this year's hair trends will draw inspiration from a collage of earlier decades. "The haircuts catching like wildfire of late are a cross between 1980s Joan Jett and early 2000 Britney Spears, which consists of shorter layers, collapsed shape, and straighter texture," he says. "In terms of color trends, if you are ombré-ing your hair, stop living in the past! I really don't want to see dark roots and light ends. Instead, put in some bold strips of color from the scalp. They can be baby highlights or bold strips—I love a beautiful glowing brunette or a sexy bombshell blonde."
Adir Abergel
Goddess Hair Inspired by the Victorian Era
"A style I think will be prominent this year is one that I'm already loving: the Victorian Goddess," says Abergel, the celebrity hairstylist and creative director who has worked Kristen Stewart, Mia Goth, and many more. "The look comes from the Victorian era. It's where you take your hair lengths to the next level by accentuating the stringy bits that naturally occur in hair growth. The look here requires you to feather the ends and keep them super transparent. You're seeing this a lot on Stella Maxwell, Kim Kardashian, and Dua Lipa as of late."
Harry Josh
Short Hair Trumps Everything Else This Season
"Extensions have dominated for so long that a haircut with personality is exactly what I feel people will head toward this year," Josh, the stylist setting iconic hair looks for Gisele Bündchen, Irina Shayk, and Helena Christensen says. "It's breaking out of the norm and inspiring bold confidence. It is individuality personified. In terms of hair color trends, we're seeing a lot of that sexy Jane Fonda shag hair from the movie Klute, modernized, and colored with rainbow hair, evoking the spirit of NYC's Lower East Side kids. A tip from me if you're dyeing your hair, especially in the wintertime: jojoba oil. Mix it with your leave-in conditioner to create a great hair mask."
Richard Marin
Finished Curls Inspired by '90s Blowouts and Chic Side Parts
"The trend I'm seeing between now and spring is a return to fun hair that has style and thought put into it—with impact," Marin, the hairstylist for Cindy Crawford, Renée Zellweger, and Michelle Pfeiffer, says. "Lots of curls, but finished-looking styles that are retro in feel, from the '90s blowout to the big, shiny curls of disco hair. People will be going back to fuller, layered hair, and away from air-dried or beach looks. The side part is making a strong comeback, which always gives a more polished feel to any hairstyle."
"To achieve this big, full look, I've brought out from my beauty cabinet my large Ibiza round boar bristle brush and Conair velcro rollers," he adds. "I never left home to go to a photo shoot in the '90s without them, and it feels right again to give a voluminous blowout, then set it in velcro rollers for the bounce. Before you start your styling from wet hair, remember to prep your hair with heat protection spray. Use your round brush and curl your ends while you're drying your roots in the opposite direction that it grows to get maximum volume from the root while getting a nice bend on the ends of the hair. You may want to stop here if you're happy with the fullness, but if you need your hairstyle to last you many hours, this is when you can set your hair in the Conair large velcro rollers. I find that leaving the rollers in the hair for 20 minutes gives a great set that lasts for hours."
Adam Campbell, Los Angeles
Shags and Bangs Inspired by Mick Jagger, Miley Cyrus and Stevie Nicks
"From short to long, shags and bangs will be the look of 2023," says Adam Campbell, the talent behind Angelina Jolie, Natalie Portman, and Liv Tyler's hair looks. "Look at the pixie shags of Halle Berry, Audrey Tautou, and Michelle Williams for inspiration. For medium length hair, a lot of runways drew inspiration from Mick Jagger, Alexa Chung, and even Miley Cyrus as of late."
"I preach often to my clients and will now to you: don't be afraid of texture and movement! That's the whole beauty of these cuts—is all the sexy, undone-ness," Campbell adds. "Mousse is a great product to get texture and volume for the blow dry. Apply a golf ball-size pump and hang your head upside down while aiming at your roots to get some serious volume. Flip back over and finish with some sea salt spray (I love Sachajuan's). The takeaway: ask your stylist for face-framing layers, bangs, and texture. Always bring a reference photo of a look you love so there is no confusion."