Zendaya Gets In on the Bob Craze With Refreshed Hairstyle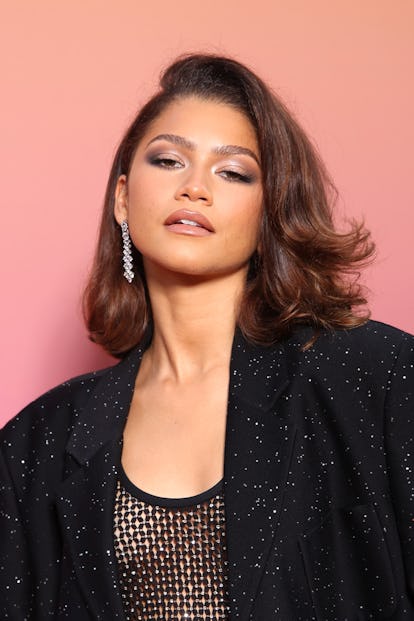 Daniele Venturelli/Getty Images Entertainment/Getty Images
It's been a summer full of changing hair colors and lengths, but Zendaya's latest style signals that scissoring off some inches is on its way to becoming a fall activity, too. On Tuesday, the 26-year-old took to Instagram to share all the details behind her new hairdo. "Needed a little refresh," she captioned a mirror selfie showing off her new look.
While Zendaya has been a proponent of the bob cut for quite some time now, she was last spotted at the Louis Vuitton menswear show in June sporting a wavy, mid-length style. Her new cut, though, is finished with wispy ends and a deep side-part. She showed off the shoulder-length look with a simple white crop top, low-rise jeans, and a brown shoulder bag.
The star first debuted the shorter length back in December and changed her color a few times—from a muted auburn hue to an almost blonde shade. But it seems that she has returned to her roots, in more ways than one, opting for a darker brown that is more in line with her natural hair color.
Though the actress has proved herself to possess quite the style and beauty prowess, it wasn't always smooth sailing. In a recent interview with Elle, she reminiscenced on her questionable wardrobe choices (albeit, as a teenager) with her then-new, now-longtime stylist Law Roach.
"I'm angry at him to this day," she said of a 2012 outfit consisting of bell-bottom jeans, a striped cardigan, and embellished wedge heels she wore in Germany. "Like, why would you put me in this? Bitch, you could've done better!"
The actress also discussed her upcoming role in the Luca Guadagnino-directed, romantic sports comedy Challengers. In it, she stars opposite Josh O'Connor and Mike Faist and plays the role of Tashi, a struggling professional tennis player engaged in a complicated love triangle with the aforementioned actors. It also seems like she might have chopped off her hair specifically for this role, having been spotted wearing the style throughout filming.
"I felt like it was a good step into a more, I guess you could say, 'grown-up' role and into that next phase," she explained of her new role. "It was a little bit scary to take on, which I think is a good feeling. To be like, 'Ooh, can I do this?' You could run from that feeling and stay safe and comfortable, or you can go, 'You know what, fuck it.'"