A Photographic Guide To Everyone Brad Pitt Has Dated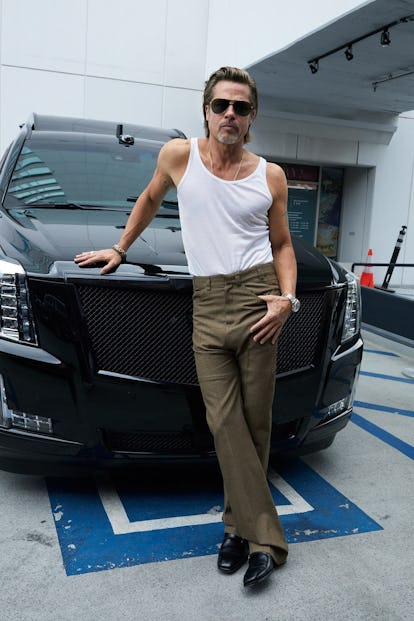 Photograph by Juergen Teller; Creative Partner to Juergen Teller: Dovile Drizyte; Styled by Sara Moonves. Skin by Stacey Panepinto; Hair by Malcolm Edwards at LGA Management; Manicure by Michelle Saunders.
On September 20, 2016, the entertainment world shattered, as Angelina Jolie filed from divorce from Brad Pitt. It had been twelve years since the couple were first spotted together following their starring roles in Mr. and Mrs. Smith—the official confirmation came in early 2006 when Jolie announced she was pregnant with Pitt's child—and just two years after the couple officially tied the knot. Since the split, Pitt's name has tumbled around the dating rumor mill quite a bit (and it didn't exactly help when the actor was discovered flirting with real people under his real name, William, a couple years later). Allegedly, the actor has also been approached by a number of his famous exes, including Kate Hudson, Juliette Lewis, Christina Applegate, and Gwyneth Paltrow, as well as allegedly flirting with Sienna Miller. There were even rumors that Pitt dated MIT professor Neri Oxman (they didn't) and actress Alia Shawkat (also untrue, though they did share a meal at In-N-Out Burger after seeing Thundercat perform in L.A.). The latest in the rumor mill? Oscar-nominated musician and actress Andra Day, who set the record straight and told the press she has never met the man. While of course all celebrity gossip rumors are to be taken with a grain of salt, the story is valuable if only for the reminder that Pitt has a long history of dating Hollywood's most eligible bachelorettes. Take a walk down celebrity couple memory lane, here.
This article was originally published on