And Just Like That... Season 2: Everything to Know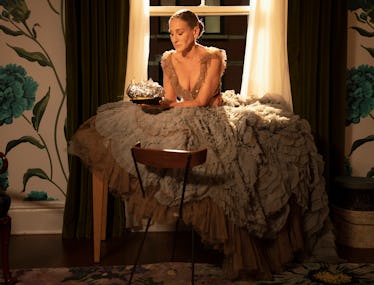 Courtesy of HBO Max
After a slightly bumpy road, And Just Like That... ended with a bat mitzvah, a questionable move to L.A., and a reunion of old friends. All three of the series' protagonists finished off the ten episodes on a high note, but as the closing credits rolled, it didn't feel like Carrie, Miranda, and Charlotte's story was necessarily over. And now, we have confirmation that it's not. HBO Max just announced And Just Like That... has been renewed for a second season.
The news isn't too shocking, considering AJLT is the streaming platform's most watched original, despite its lukewarm reception. Plus, the creatives behind the show made it clear from the beginning that they were open to doing another season. As of now, there isn't too much information when it comes to the what, when, and who of season two, but we'll keep updating you as more comes in.
Who will be in And Just Like That... season two?
While Cattrall is officially out once again (more on that below), the other big three—Sarah Jessica Parker, Cynthia Nixon, and Kristin Davis—are seemingly confirmed to return. A promotional tweet from the show also featured some secondary characters like Mario Cantone's Anthony, as well as some of the season one newcomers like Sara Ramirez, Sarita Choudhury, Nicole Ari Parker, and Karen Pittman.
In addition, it was recently announced that another familiar face from Sex and the City—one who was missing from And Just Like That's first season—will be making his return. According to Deadline, John Corbett will be reprising his role as Carrie's furniture-making ex, Aidan Shaw, in the upcoming season. Apparently, we'll be getting a fairly large dose of Shaw, as Corbett is "set for a substantial, multi-episode arc."
Will Kim Cattrall return for And Just Like That... season two?
The last time Kim Cattrall was asked whether she would return to the character of Samantha in And Just Like That..., she did not mince words. "That's a no," she said, adding, "It's powerful to say no." The show's executive producer, Michael Patrick King, doubled down on this, saying he has "no realistic expectation of Kim Cattrall ever appearing again." Despite that, King has some ideas about how to keep Ms. Jones's energy alive in the Sex and the City spinoff. Last season, Carrie texted with her former friend from time to time, with the pair even planning to meet up in the last episode. Well, don't expect that line of communication to stop. When asked by Variety if the texting will continue in season two, King responded with an ecstatic, "Yes!" Apparently, the writers have long discussed what went down when Carrie and Samantha finally met up off screen after the season one finale, and they feel like the frenemies are now back on good terms.
"I think there was some Champagne. I think there was a grown-up back and forth, and a love affair that they realized that something's more important than being afraid to heal," he said. "I'm sure they had a great night. To me, things became resolved. Once Carrie let go of an old, old love, one of her current loves came back in." So, while Samantha won't physically be in season two, this imaginary make-up session means she will continue to live on through lock screen notifications.
What will season two of And Just Like That... be about?
Since the show's renewal was just announced, we don't yet know what the next installment will cover, but we can assume it will pick up not long after the finale left off. That means we will likely see Carrie as she continues to mourn Big and move on with her life, as well as start working on her own podcast (and possibly explore a relationship with her producer). We will also likely see the fallout from Miranda's big move to L.A., which, let's be honest, no one expects to work out.
When will And Just Like That... season two come out?
It's a bit too early to give any definitive dates, but King did recently reveal production will start on season two in October, with a tentative premiere date in summer 2023. This makes sense, considering Parker is currently busy starring in Plaza Suite on Broadway alongside her husband, Matthew Broderick, and she will be there until July. There are, of course, other schedules to take into consideration as well: like that of Nixon's, whose other HBO show, The Gilded Age, has also been renewed for a second season.
This article was originally published on