And Just Like That... We're Getting Another Season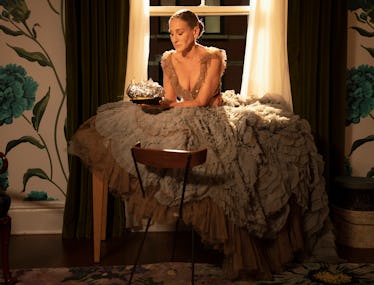 Courtesy of HBO Max
After a slightly bumpy road, And Just Like That... ended with a bat mitzvah, a questionable move to LA, and a reuniting of old friends. All three of the series' protagonists finished off the ten episodes on a high note, but as the closing credits rolled, it didn't feel like Carrie, Miranda, and Charlotte's story was necessarily over, and now, we have confirmation that it's not. HBO Max just announced And Just Like That... has been renewed for a second season.
The news isn't too shocking, considering AJLT is the streaming platform's most watched original, despite its lukewarm reception. Plus, the creatives behind the show made it clear from the beginning that they were open to doing another season. As of now, there isn't too much information when it comes to the what, when, and who of season two, but we'll keep updating you as more comes in.
What will season two of And Just Like That... be about?
Since the show's renewal was just announced, we don't yet know what the next installment will cover, but we can assume it will pick up not long after the finale left off. That means, we will likely see Carrie as she continues to mourn Big and move on with her life, as well as start working on her own podcast (and possibly explore a relationship with her producer). We will also likely see the fallout from Miranda's big move to LA, which, let's be honest, no one expects to work out.
Who will be in And Just Like That... season two.
As of now, it seems the only confirmed cast of the second season are the big three—Sarah Jessica Parker, Cynthia Nixon and Kristin Davis, though the promotional tweet from the show also featured some secondary characters like Mario Cantone's Anthony, as well as some of the season one newcomers like Sarita Choudhury, Nicole Ari Parker, Karen Pittman, and, notably, Sara Ramirez.
As for the fourth musketeer, Kim Cattrall, don't get your hopes up about her involvement. Talk of the actress returning for season two was being discussed as early as November 2021, before the show even aired, but in February, the AJLT's executive producer, Michael Patrick King, all but confirmed that Cattrall will not be returning.
When will And Just Like That... season two come out?
We don't have a release date quite yet, and we likely won't get one for awhile, but the end of 2022 seems like a safe guess considering season one premiered in December 2021. Parker is currently busy starring in Plaza Suite on Broadway alongside her husband, Matthew Broderick, with the scheduled to end in late June. Season one started filming in July 2021, though, so they could still possibly make that schedule work. There are, of course, other schedules to take into consideration as well, like that of Nixon, whose other HBO show, The Gilded Age has also been renewed for a second season. Kristen Davis, too, is still attached to star in yet another HBO Max show, Deeds, but we're sure the corporate powers that be will make sure all the scheduling runs smoothly.
This article was originally published on