Your Guide to the Best Events at Miami Art Week and Art Basel 2022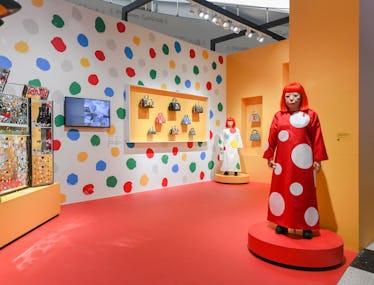 Louis Vuitton's Art Basel Miami Exhibition. BFA
The key to throwing a good party is inviting guests from all corners of your social network. The key to putting together the best itinerary for Art Basel Miami Beach: making sure you hit up a little bit of all the week has to offer. There's the art of course, both at ABMB itself as well as several satellite fairs, and openings scattered across the city in galleries, museums, and installations. Then there's the fashion parties, the photography exhibitions, the unveiling of new high-end concept cars, the open bars, some dinners, more than a few places to dance, and, perhaps, you might even have time for a massage or a bit of yoga somewhere along the way.
You'll never do it all, but of course half the fun of the week is hearing what everyone else did. So here, some of the highlights of the week that aren't to miss.
Tiffany & Co. Holiday Residence and Café
When: December 2nd-January 31st
Where: 160 Northeast 40th Street
What to Expect: For the first time, snowbirds can enjoy breakfast (or lunch) at Tiffany's while shopping a special holiday pop-up in the Design District. To coincide with Art Basel and Design Miami, the famed New York jeweler commissioned artists Kai & Sunny to cast a new temporary storefront in colorful hues. As befitting the Magic City, neon accents, graffiti-style paint and acrylic-framed artwork round out the retail experience. To celebrate, Tiffany & Co. will host a VIP cocktail reception on December 1st with house ambassadors Hailey Bieber and Pharrell Williams in attendance.
When: November 29th to December 4th (3 PM - 9 PM)
Where: A Beachfront Gallery
What to Expect: Thirty years since it was first published, challenged culture, redefined the image of one of the world's most famous women and further established photographer Steven Meisel as a master, Madonna's legendary Sex book is returning to Miami, the city where many of its most famous images were shot. Yves Saint Laurent has not only commissioned a limited re-edition of the tome, but will also be hosting an exhibition of 25 unpublished photographs from the original sessions that is open to everyone 18 years and older to visit. Limited edition tote bags and tees will also be available for purchase.
Gaetano Pesce's Come Stai? Presented by Bottega Veneta
When: On Display November 30th to December 4th
Where: 153 NE 40th St, Miami, FL
What to Expect: When Bottega Veneta presented its summer 2023 collection in Milan, guests had literally pieces of art to sit on. Creative Director Matthieu Blazy had commissioned 400 custom chairs from Italian design legend Gaetano Pesce. Now a selection of the chairs will be exhibited and sold at Design/ Miami. Pesce will also be on hand for a discussion with Design Miami Curatorial Director Maria Cristina Didero on November 30th at 2 p.m. A signing of a book commissioned by Bottega documenting the collaboration will follow at 4 p.m.
Louis Vuitton at Art Basel Miami Beach
When: November 29th to December 3rd
Where: The Miami Beach Convention Center
What to Expect: Louis Vuitton has become known for its groundbreaking (and always popular) collaboration with artists, and this year the French house will be displaying works from some of its favorite artists at the main fair. The highlight will be two wax figures of Yayoi Kusama, which will not only commemorate the 10th anniversary of Vuitton's first collaboration with Kusama but will also tease a future collaboration. Works by Takashi Murakami, Richard Prince, Alex Katz and Jean Larivière will also be on display.
Giorgio Armani LOVE Public Art Project
Where: The Design District and Giorgio Armani store, 174 NE 39th St.
When: November 29-December 3
What to Expect: A koala hugging a rhino's horn, a gorilla snuggling a duck—these unexpected pairings are the charming subjects of Italian artist Marcantonio's large-scale LOVE sculptures scattered about Miami's Design District. With the scan of a QR code the bright blue animals come to life via augmented reality and guide visitors on a path to Giorgio Armani's store where they'll find an exclusive genderless collection fit for all creatures great and small.
MONAD Studio at The Ritz-Carlton
When: Beginning November 29th
Where: The Ritz-Carlton, South Beach
What to Expect: The Ritz-Carlton, South Beach is not only celebrating Art Week, but also the 70th anniversary of its landmark Morris Lapidus-designed building. To do so they've commissioned MONAD Studio to design a 3D-printed sonic sculpture that will be displayed in the hotel's lobby. An invite-only concert will be held on Tuesday night when musicians from the Miami Symphony Orchestra will play the sculptural instrument with a performance assist from the Miami City Ballet.
Alexandre Arrechea Exhibition at Villa Balmain
When: Following an opening party on November 30th, the exhibit will be open to the public December 1-2
Where: Superblue, 1101 NW 23rd Street
What to expect: Balmain invites guests to immerse themselves fully in the work of Cuban artist Alexandre Arrechea in a display of physical art, digital art, and NFTs. A special web3 experience blends Balmain's heritage with 3D printing powered by LITO, a platform to scan, digitize and 3D print masterpiece artworks directly with museums, cultural sites, and artists.
Prada Extends
When: December 1, 10pm-2am
Where: Faena Forum, 3300-3398 Collins Avenue, Miami Beach
What to expect: Richie Hawtin aka Plastikman curated the latest iteration of the Prada Extends music project which has previously been staged in London and Tokyo. The global VIP event series tasks artists and DJs to examine the symbiotic relationship between electronic music and fashion and bring them to life in a physical space for one night only.
Our Lady of Rocco Pop-up
When: November 29th to December 3rd
Where: ZZ's Club, 151 NE 41st St. First floor.
What to Expect: Restaurateur Mario Carbone and New York City womenswear brand La Ligne have chosen Miami as the location for their next Our Lady of Rocco drop. The pair, which first teamed on the ready-to-wear lifestyle brand back in 2021, are gearing up to release Part II, an RTW offering that will consist of exclusive vintage pieces only available for purchase at the Miami pop-up. A tailor will be on-site at the famed restaurant ZZ's Club to fit shoppers into the range of secondhand Nino Cerruti suits and balzers, all of which have been reworked to include Our Lady of Rocco's signature lining and brass buttons. But this release doesn't stop at suits. Part II also includes an assortment of streetwear-inspired styles including t-shirts, everyday slacks, a satin bomber, and wool caps.
Nina Chanel Abney at the ICA Miami
When: Beginning November 28
Where: The Institute of Contemporary Art in Miami's Design District
What to Expect: Expect there to be more back-to-school energy than ever on the main fair's opening night, November 28. Nina Chanel Abney kicks things off at the ICA Miami with "Big Butch Energy," a series of large-scale collages that use Greek student life as a means to explore gender, race, and sexuality. "Instead of just rewriting Greek life narratives with queer Black characters, I wanted to highlight the implicit flamboyance and homoeroticism of frat house and sorority house environments," Abney says of the series, which also draws on baroque portraiture and films such as National Lampoon's Animal House (1978).
Alexandre Diop at the Rubell Museum
When: Beginning November 28
Where: 1100 NW 23rd St.
What to Expect: As the Rubell Museum's latest artist in residence, Alexandre Diop is set to be the toast of Miami Art Week. The Franco-Senegalese artist spent his time in Florida continuing to investigate the impacts of diaspora and colonialism—this time, while experimenting with found objects and fire (as in, he literally set his paintings aflame). The fruits of his labor will be on view beginning November 28, alongside those of fellow promising up-and-comers Doron Langberg and Jo Messer.
Two of The Same Kind at the Craig Robins Collection
When: Beginning November 30th
Where: DACRA Headquarters, 3841 NE 2nd Ave.
What to Expect: Craig Robins and Jackie Soffer are one of Miami's biggest power couples, but decades before they met, both of their mothers had commissioned portraits by Andy Warhol. Inspired by the coincidence, this year Robins is presenting an exhibition entitled Two of the Same Kind, juxtaposing works from the artists Marlene Dumas and Jana Euler.
Dolce & Gabbana Casa Miami
When: Opening November 28th
Where: Luxury Living Store, 50 N.E. 39th Street
What to Expect: In honor of Design Miami Dolce & Gabbana has taken over three entire floors of Luxury Living in the Design District where its debuting two new themes for its homeware collection: DG Logo and Oro 24K. The latter is a nod to Baroque grandiosity and features a full range of gilded furniture and home decor. It joins the house's equally opulent Carretto Siciliano, Blu Mediterraneo, Leopardo, and Zebra lines which will all be on offer at the celebratory cocktail reception on November 30th.
Garance Vallée's Planted Air, Presented by Maison Perrier-Jouët
When: November 30th to December 4th.
Where: at Design Miami
Inspired by a champagne vineyard, Paris-based architect and artist Garance Vallée's Planted Air will be on display at the Design Miami/ fair. Visitors will be invited to follow a path through seperate sculptural pieces, each representing a grape vine that mixes with other organic forms representing plants, animals and minerals. The artist has also collaborated on a special edition of Perrier-Jouët Blanc de Blancs, which is housed in a special box to be unvieled at the fair.
Gagosian & Jeffrey Deitch | 100 Years
When: November 28th through December 4th
Where: Buick Building NE 2nd Ave
What to Expect: For the sixth year, Gagosian and Deitch are teaming up in Miami, this time with a sweeping scope. This year's exhibit will feature contemporary artists's work chosen to represent the sweeping cultural and environmental changes of the past century. Works from Refik Anadol, Theaster Gates, Douglas Gordon, Urs Fischer, Tom Friedman, Austin Lee, Jamian Juliano Villani, Rick Lowe, Keiichi Tanaami, and Taryn Simon will be on display.
The Ruinart Beach Art Lounge Presents Jeppe Hein's Right Here, Right Now
When: November 30th through December 2nd
Where: Collins Park Beachfront between 21st & 22nd St
The champagne maison Ruinart is collaborating with Danish artist Jeppe Hein to reimagine his installation Right Here, Right Now as a multi-sensory experience open to the public directly on the sands of South Beach. The experience will be available on a first come, first serve basis, but guided meditations led by Hein himself can be booked in advance.
Surfrider Beach Cleanup
When: Monday November 28th from 10 am until noon.
Where: The Beach at 18th Street
What to Expect: Before the partying begins, the Surfrider Foundation in conjunction with Chateau d'Esclans' Whispering Angel wines will be hosting a morning beach cleanup. Volunteers can RSVP here.
Ronny Quevedo at Locust Projects
When: Beginning November 29
Where: Locust Projects gallery, 3852 N Miami Ave.
What to Expect: The opening of Ronny Quevedo's "ule ole allez" at Locust Projects, Miami's longest-running alternative arts space, neatly coincides with both Miami Art Week and the World Cup. The Ecuador-born, Bronx-based artist is paying homage to the soccer and futsal communities with an immersive installation that came to be on November 20 and 21, when he invited locals to play ball inside the gallery—on the condition that they cover it in chalk and ink to leave marks. The exhibition also features drawings, sculptures, and paintings, and opens alongside T. Elliott Mansa's "Room for the living / Room for the dead," another immersive installation exploring the concept of the living room.
Meridians at Art Basel Miami Beach
When: November 29 through December 3
Where: The Miami Beach Convention Center
What to Expect: The bigger the better at Meridians, the third annual showcase of works on a monumental scale at ABMB. Judy Chicago is revisiting her seminal '80s-era Birth Project series by presenting the largest of its crocheted wall hangings, which were made in collaboration with more than 150 needleworkers. Meanwhile, Erin M. Riley has supersized the scale of her erotic tapestries with questions and answers, an exploration of sexual violence and trauma that stretches 26 feet. Their works, along with those by artists such as Zanele Muholi and Cauleen Smith, will be on view through the length of the fair, but you'll only have one chance to see Rafa Esparza impersonate a cyborg-turned-25-cent-ride-machine. (The remnants of whatever comes from that performance consist of his contribution.)
Dread Scott at Art Basel Miami Beach
When: November 29 through December 3.
Where: The Miami Beach Convention Center
What to Expect: Long before he became known for works such as A Man Was Lynched by Police Yesterday, a flag created in response to the murders of Philando Castile, Alton Sterling, and Walter Scott, Dread Scott got his start with photographic series depicting punk concerts, gun carriers, and children in his hometown of Chicago. Cristin Tierney Gallery is taking a much-needed look back at his early years in Survey, the fair's sector dedicated to works created pre-2000, presenting five bodies of work that laid the foundation for the artist's longtime study of violence and racism in the United States.
"Boil, Toil + Trouble" at the Miami Design District
When: November 29 through December 4
Where: 50 NE 40th St.
What to Expect: Curator Zoe Lukov has brought together what she aptly sums up as a "cauldron's brew" of more than 40 artists' mystical meditations on the alchemy of water in an exhibition titled "Boil, Toil + Trouble." The approaches of Nicole Eisenman, David Hammons, Chase Hall, Wangechi Mutu, and more range from feminist to environmental to spiritual, and are all on view.
This article was originally published on