Emily Ratajkowski and Eric Andre Seemingly Confirm Their Relationship With a Joint Thirst Trap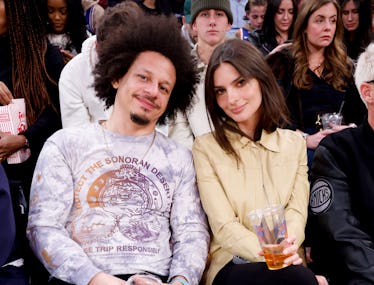 NY Knicks/ MSG Sports
Thirst traps are back. OK, they never really went anywhere, but there has definitely been a recent uptick with Tom Brady and Kendall Jenner taking to Instagram to share their sexiest snaps, and now Erica Andre and Emily Ratajkowski are enlisting the help of a thirst trap to seemingly confirm their previously rumored relationship.
On Tuesday, which also just so happens to be Valentine's Day, Andre took to Instagram to share a photo in celebration of the holiday. In the pic, the comedian is laying on a couch and enjoying a glass of wine, completely naked with just a heart emoji covering him up. "Happy Valentine's Day," Andre captioned the photo with an array of heart emojis.
Further dissection of the photo reveals not only clothes strewn across the floor, but also the photographer of the image, Ratajkowski, in the reflection of the mirror. She seems to be naked as well—possibly in a bra—making the context of this photo pretty obvious, the two are very much in a couple, and Ratajkowski has had quite the influence on Andre in their short time together.
The thirst trap confirmation comes as rumors around the pair have been circulating for awhile. They were stopped grabbing meals together in NYC on multiple occasions, spending a weekend at the popular Palm Heights hotel in Grand Cayman, and even sat front row at a Knicks game together on Monday night. Now, though, it seems they're ready to make their relationship official, and they're taking a page out of Ratajkowski's hand book in order to do so.
There is one strange thing about this image, however (other than the seemingly random placement of the furniture in the room). Andre is holding a glass of wine, and there's another glass to the left of the wine bottle on the floor, which presumedly belongs Ratajkowski. But, there's a third glass on the mantel all the way on the left hand side of the image. Could that be a leftover glass from another occasion, or was there a third party involved in this Valentine's Day celebration and subsequent thirst trap photoshoot? Now that we have confirmation of the couple, is there another secret they're hiding as well?