Frieze London's Biggest Instagram Sensations Are Sexually Explicit Artworks by Women That Have Been Censored For Decades
The 74-year-old Austrian artist Renate Bertlmann's dildo-cacti combos are a particular hit.
---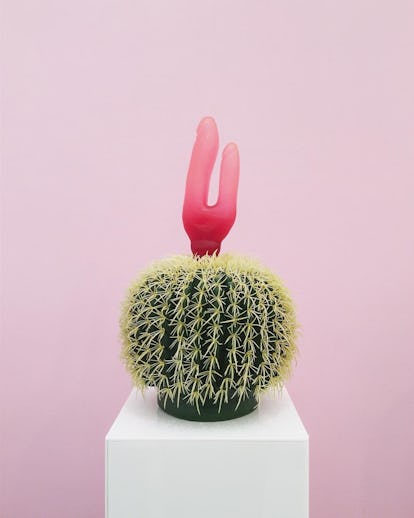 Courtesy of @vandongenwouter
From 1969 to 1974, Betty Tompkins created a series of so-called "F— Paintings" that are exactly what they sound like: extremely up-close, photorealistic canvases depicting graphic sexual intercourse. The works weren't seen, though, until the early 2000s, largely because no gallery would take them. (Or weren't allowed to, like the time in 1973 they were confiscated by customs en route to a showing.) In fact, it's only in the past year or so, now that Tompkins's in her 70s, that her work has now finally been deemed acceptable enough to be market-friendly, as evidenced by showings at this year's Armory Week and Frieze London, whose 2017 edition wraps up on Sunday.
It's a story no doubt familiar to artists like Judith Bernstein and the seven other women featured in "Sex Work: Feminist Art & Radical Politics," Frieze's section of radical, sex-positive art that was considered too controversial for its time in the '70s and '80s. Curated by Alison Gingeras, in a break from her work with Dear Ivanka, the artist-led protest group against the Trump administration, it also features her Dear Ivanka comrade Marilyn Minter, who's still staring down censorship these days, even though she's also found mainstream success in exhibitions like a recent major retrospective at the Brooklyn Museum.
For many of those featured, though, it's the first time their most explicit work has been given a platform as large as an art fair that not only draws in tens of thousands of art world figures, but also some celebrity strays like David and Victoria Beckham. Along with Natalia LL, a pioneer of Polish feminist art, falling into that camp, at least for non-European audiences, would be Renate Bertlmann, a 74-year-old Austrian artist whose works like those involving inflated condoms and herself as a pregnant bride got her banned from museum showings—and labeled as "phallus-addicted."
Like her peers, though, Bertlmann trudged on with her work and waited for the world to catch up, which it finally has in recent years, with a show at the Tate in 2015, and now, of course, Frieze London in 2017. The fair has on display her 1999 work Kaktus, which consist of a plastic cactus topped off with a dildo, in what turns out to be a perfect summary of the art world's prickly response to women who dared express their sexuality in the decades before today. All that has made her installation an Instagram sensation—though it also definitely doesn't hurt that, in a modern-day touch, the installation's backdrop has been colored a millennial pink.
Related: Thongs, Temporary Tattoos, and Other Fun Ways Barbara Kruger, Marilyn Minter, and 70 Other Angry Artists Are Now Resisting Donald Trump
See Kendall Jenner, Performance Artist, Channel Icons Like Marina Abramovic and Yoko Ono: